A complete guide on how to make tacos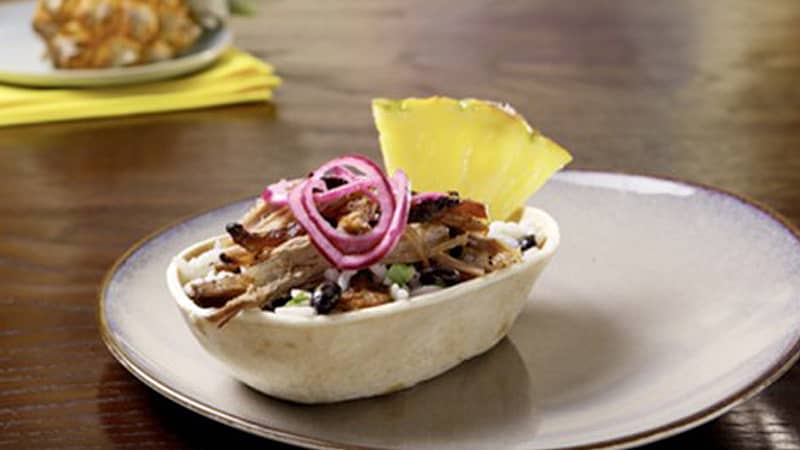 From vibrant flavours to dishes that were made to be shared, there's a lot to celebrate about Mexican food.
You don't need to travel across the world to enjoy some of the region's most famous dishes - you can bring a taste of Mexico right to your kitchen.
Discover the joy of Mexican cooking and the joy of coming together with family and friends and sharing a great meal. Today we're giving you an essential run down on tacos.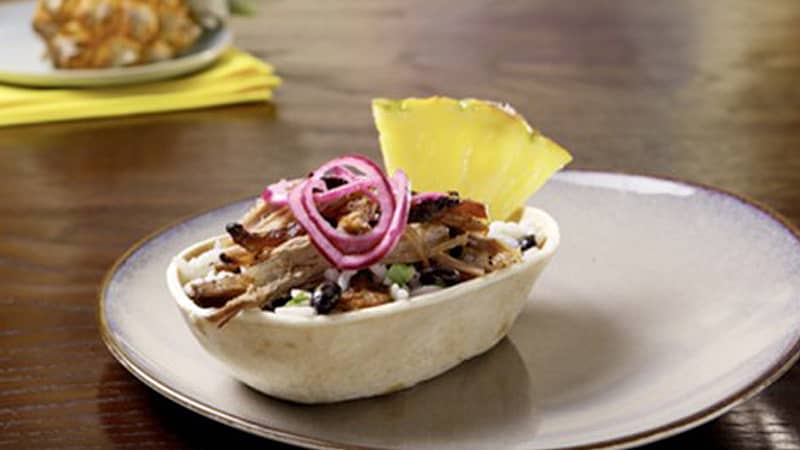 What is a taco ?
Let's start with the basics: what exactly is a taco?
In its simplest form, a taco is a corn or wheat tortilla stuffed with a seasoned filling and garnish. They are traditionally eaten without utensils and can be enjoyed as a meal or a snack.
The taco's origins date back to 18th century Mexico, most likely made popular by miners - the word 'taco' itself is a term used in silver mining to describe paper that would be wrapped around gunpowder and inserted into the rock face.
Over time, the taco grew in popularity and as Mexican migrants made their way into the United States, more and more people were introduced to this delicious and versatile meal.
Recipes evolved and the taco started to resemble the dish we know and love today.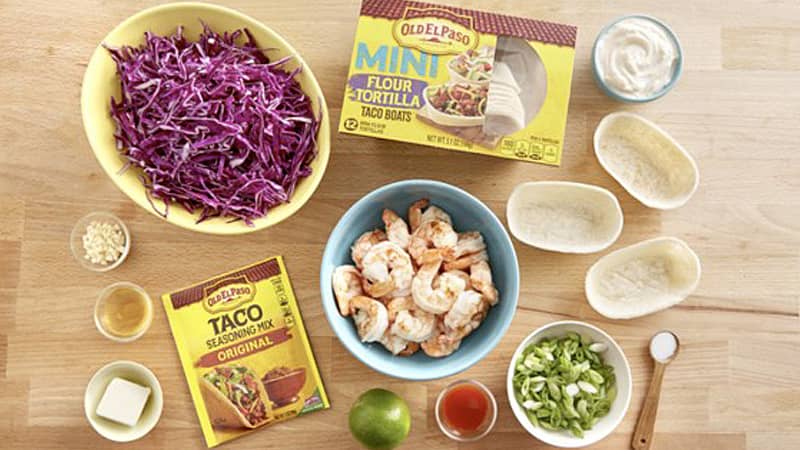 What's in a taco ?
What belongs in a taco is a matter of opinion, and there's dozens of different ways to enjoy this dish.
The taco's core ingredients generally consist of: a tortilla or shell and meat or fish filling. Vegetables, sauces, cheese salsa and guacamole are also frequently part of the mix.
Shell: One of the most important aspects of the taco is the shell itself. Unlike fajitas and burritos, tacos typically come in smaller, almost bite-sized portions. Soft tacos are made using flour tortillas, while hard taco shells are made from corn. For the best of both worlds, our unique Stand 'N' Stuff ™ soft tortillas come in a boat-shape, making it easy to load your taco with your favourite fillings.
Filling: The filling is the next non-negotiable element of the taco, but there's plenty of room for variety here. Chicken, steak, pulled pork, and white fish are the traditional taco fillings, but people also love to get creative with ingredients like beans, sweet potato, lamb and so much more.
Salsa: Salsa and other sauces help add dimension and bring all your flavours together. A classic pico de gallo goes well with just about anything. For something a little out of the ordinary, try mango salsa - it tastes especially delicious with fish tacos.
Garnish: Your garnish adds the finishing touches to your taco. Sour cream, cheese and guacamole are some of the most popular finishing touches. Coriander, sliced radish and lime can all help add extra flavour, too.
Sauces: Like garnish, sauces can really enhance the flavour of your fillings and help bring more variety to your dish. They look great too - you can drizzle hot sauce over to add a decorative touch before serving.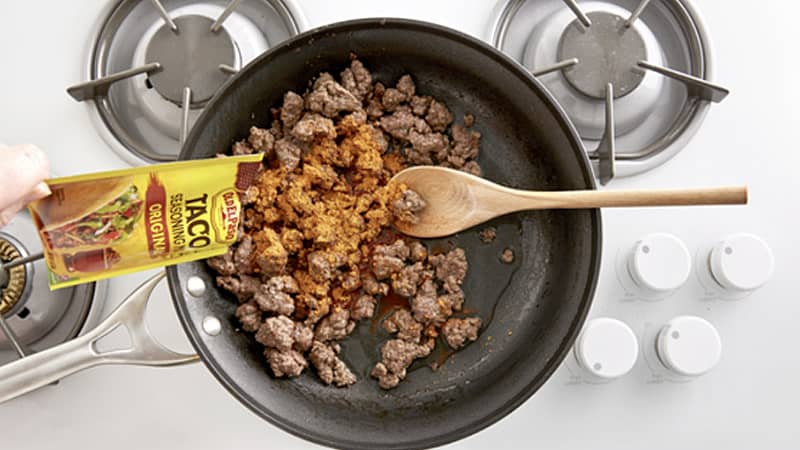 How to make tacos?
Tacos taste best when they're made with a variety of fresh, simple ingredients. You don't need to get too fancy - the beauty of the taco is it's the sum of its parts.
You can cut down on prep time by buying some bits and making your fillings in advance - you can make pulled pork in a slow cooker, for example, and freeze any extra to use later on. Part of what makes a taco so appealing is how easily it can be pulled together - and if you're serving family and friends you can create variety with a few different fillings.
Adding your own spin means you can enjoy tacos dozens of different ways. For a kick of heat, add jalapeños to your filling, or make your tacos moreish by adding cheese and putting them under a grill for a few seconds.
If you prefer to go vegetarian, there's still plenty of options. Avocado, sweet potato, mushroom and roasted cauliflower are just a few flavours that taste great.
How to eat a taco?
Tacos are made to be enjoyed without utensils.
Eating with your hands has its advantages; it helps create a casual, communal atmosphere around the table.
You can take this one step further by laying out your own filling station and letting everyone create their own unique taco combinations themselves.
WHAT TO SERVE WITH TACOS?
Tacos can be enjoyed as a snack or a main dish, and you can complement your efforts by adding a few tasty side dishes into the mix.
These don't need to be complicated - here's a few suggestions that are quick and easy to pull together:
Nachos: Nachos are a quick and easy side dish and can often be made using many of the same ingredients you used to prepare your tacos.
Refried beans: Refried beans are a delicious addition to any Mexican dish, and you can make them in a snap when you keep a can of our Old El Paso™ refried beans to hand.
Chips & Dips: Tortilla chips and dips like salsa and guacamole are perfect to share and enjoy when you're serving up tacos. A five-layer Mexican dip or taco bean dip are two delicious options to enjoy.
Pulled Pork Stand 'N' Stuff™ Tacos
The meltingly delicious pork takes these tacos to an extra level.
Recipe Name
Pulled Pork Stand 'N' Stuff™ Tacos
Total Time
Spice Level
Mild
Servings
4
Ingredients
750g boneless pork shoulder joint
1 pack Old El Paso™ Garlic & Paprika Taco Seasoning Mix
1 tablespoon vegetable or olive oil
250ml pineapple juice
250ml water
1 pack Old El Paso™ Stand 'N' Stuff™ Soft Flour Tortillas
1/2 fresh pineapple, thinly sliced
1 pack (250g) microwave long grain white rice, heated to pack instructions
1 tin Old El Paso™ Black Beans, drained
1 large handful coriander, chopped, plus extra to garnish
1 red onion, halved and thinly sliced
Juice of 1 lime
1/4 teaspoon salt
Preparation
Preheat the oven to 180ºC (160ºC for fan assisted ovens), gas mark 4. Rub 1 1/2 tablespoon of the seasoning mix over the pork joint. Heat the oil in a medium heavy based casserole dish or ovenproof pan over a medium heat and add the pork. Cook for 3-4 minutes, turning so each side is browned. Remove and discard the string.
Add the pineapple juice and water to the pan with the remaining seasoning mix, bring to the boil and turn down to a simmer, cover and cook in the oven for 3 hours until the pork is tender and falling apart.
Drain the liquid from the pork reserving 50ml. Shred the pork, using 2 forks and stir together with the reserved liquid.
Stir the rice, beans and most of the coriander together in a medium bowl. Mix the red onion, lime juice and salt together in a small bowl. Allow them to stand for 5 minutes to allow the flavours to infuse.
Fill the soft tortillas with the rice, pulled pork, sliced pineapple, pickled red onions and garnish with the remaining coriander.
Expert Tips
Squeeze a little lime juice over the top for a citrusy kick.
Serve alongside a salad of lettuce leaves, tomatoes and cucumber.