How to Make Fajitas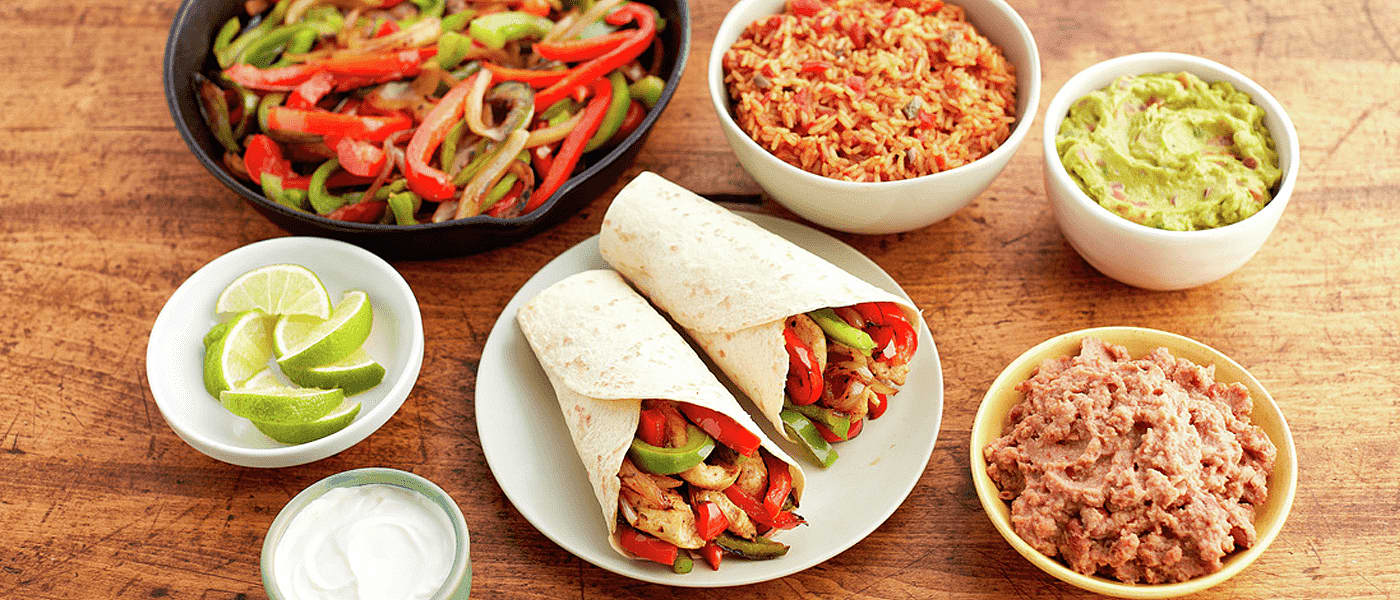 Easy to cook, colourful and packed with flavour, fajitas are a fantastic Mexican-inspired dinner option! Learn how to make your own sizzling fajitas, from prepping to cooking and filling, and find your favourite flavour combos with Old El Paso.
What to put in fajitas
What makes a fajita a fajita? A traditional fajita filling is made up of onions, bell peppers and protein, all cooked in that distinctive sweet and savoury seasoning and topped with your choice of dressings. Unlike other wrap-tastic treats such as enchiladas and burritos, fajitas are designed to be individually assembled and enjoyed straight away.
The other distinctive thing about fajitas is the way the fillings are served sizzling, either straight from the pan or on a special sizzler tray. This means everything stays nice and hot right up until the second it's in your tortilla – and makes going back for seconds even more tempting.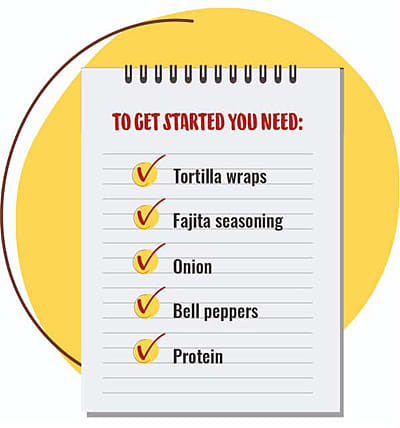 How to prep your veg
For fajitas, preparation is everything. To get that signature crunch, cut your veg into long, thin strips that can be cooked quickly.
Start off by standing your pepper upright, lining your knife up with one of its sections and slicing downwards, avoiding the stalk. Repeat for all sections (some peppers only have two, others up to four or five). Discard the centre and slice each section into thin slices.
For the onion, turn it on its side and chop off the top. Then, turn it upright to sit on the flat edge you've just created and cut it in half, before peeling with the root still attached (this helps to keep it together). All that's left to do is slice each half into thin strips by holding onto the root, then discard it – simple!
How to cook fajitas
Fajita fillings are best sautéed, so a nice hot pan is your number one item. Any non-stick frying pan or skillet will do the job, but a cast iron pan is great for getting a good sizzle going. Cast iron pans are also best at retaining heat, which is perfect for keeping your fillings hot while you build your fajitas.
Add a little oil and heat before tossing in your vegetables. You might be tempted to give it a quick shake, but we recommend leaving your veggies alone to give them a chance to brown, before moving them after a few minutes. You want to see the onions start to turn translucent and the peppers start to soften at the edges. Once everything is starting to brown, your veggies are ready. Take them out and place to one side – we recommend transferring them to a bowl and covering with foil to keep warm while you cook your protein.
Give your pan another small splash of oil and make sure it's piping hot before adding your protein. We recommend slicing your protein into bite-sized strips and patting dry to get a good sear when you add it to the pan. Once added, don't be tempted to turn it too often. When both sides are evenly browned and the centre is cooked through, add your veggies back in and shake on some seasoning. A few minutes and a quick stir to make sure everything is evenly coated, and you're good to go!
How to fill a fajita
Assembling a fajita is like making a mini-masterpiece designed for you and no one else. Gather all of your elements beforehand so you can pick and mix with ease.
Start with your wrap (pre-warmed in the microwave or oven so it's nice and soft) then add a spoonful of your favourite toppings (salsa, sour cream, you name it), making sure it's evenly spread.
Next, add your fajita filling in a long column down the middle. Don't be too ambitious here, it's better to have two small fajitas than one overstuffed one that falls apart! Some people like to sprinkle a little cheese on, too.
Now you're ready to fold. You can start with a small fold at the end of your filling column, so that the bottom is closed, and bring the sides into the middle or give the traditional style a go – where both edges of the wrap are brought into the middle, one tucked neatly under the other.
What to serve with fajitas
Fajitas are a meal in their own right, but some tasty sides can make a good thing even better. A few of our favourites include:
A rich, tomatoey salsa
Smooth and satisfying guacamole
Cooling and delicious sour cream
Rice with a spicy kick
Green jalapenos for some extra heat
Mellow grated cheese to melt inside
Cut limes to squeeze over your fillings
Classic and comforting refried beans
The choices are endless. How do you like yours?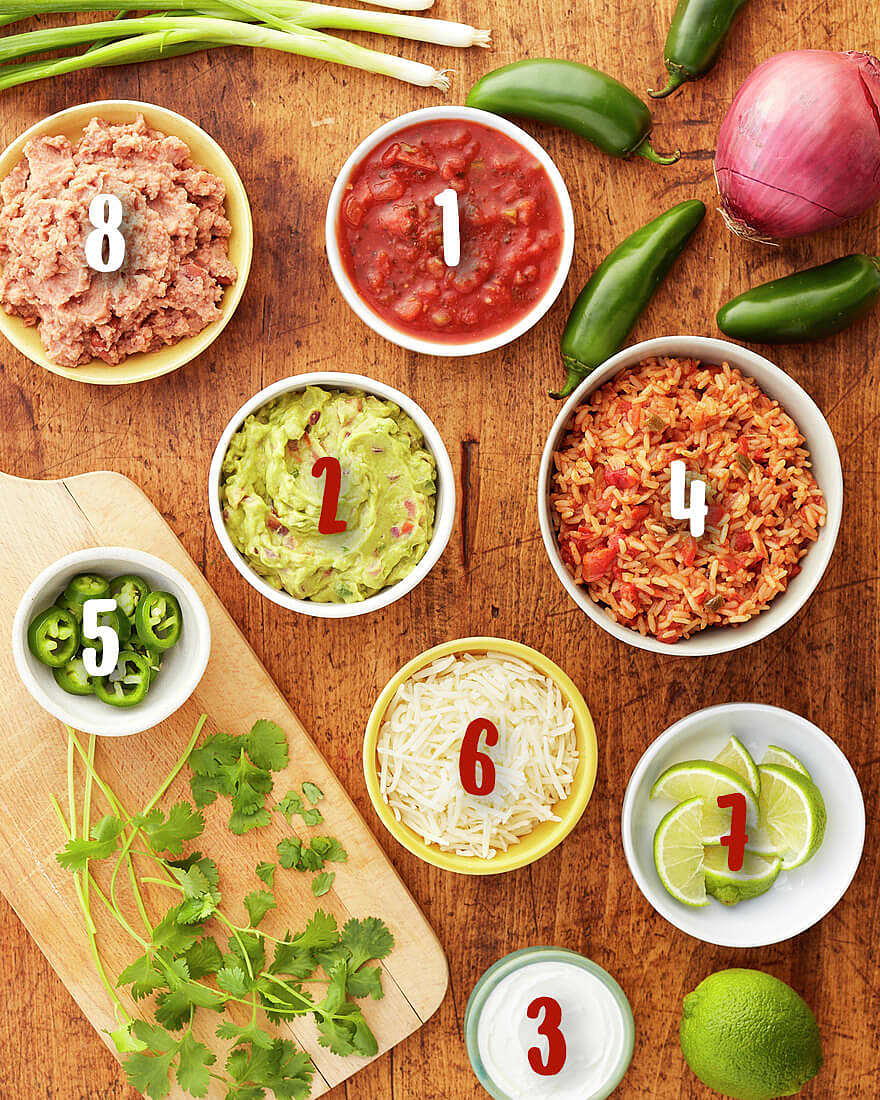 Crunchy Rainbow Chicken Fajitas
Crispy chicken, veggies, salsa and super soft tortillas are the perfect combination for a colour-packed fajita, perfect for lunch!
Recipe Name
Crunchy Rainbow Chicken Fajitas
Total Time
30 minutes
Spice Level
Mild
Servings
4
Ingredients
1 Old El Paso™ Crispy Chicken Fajita Kit
400g chicken breast mini fillets
2 tbsp vegetable oil (22g)
100g red cabbage, finely shredded
1 carrot, grated (80g)
1 yellow pepper, chopped (160g)
1/2 cucumber, thinly sliced (150g)
1 small pack cherry tomatoes, quartered (about 16 tomatoes = 240g)
Preparation
Preheat the oven to 220°C (200°C fan; gas mark 7).
Place chicken in a bowl. Pour oil over the chicken and toss. Empty the seasoning into the bowl and toss to coat.
Place chicken on a baking paper lined tray in a single layer and bake for 15 minutes until golden and crispy and cooked through.
Heat the tortillas according to the pack instructions.
Load the tortillas with cabbage, carrot, pepper, cucumber, cherry tomatoes and chicken; drizzle with salsa.
Expert Tips
Try other colourful vegetables e.g. sweetcorn, grated beetroot, baby spinach, red or orange pepper.
Choose From Old El Paso's Favourite Fajitas!
Ready to make some delicious fajitas the whole family can enjoy? Try some of our favourite fajita recipes below!