How to Make Nachos at Home
There's nothing quite like gathering around the dinner table with your loved ones and sharing a delicious meal!
The magic of Mexican food lies in its power to unite people – if you're seeking an easy, informal dish ideal for sharing, nachos are the perfect option.
Whether you're wondering what nachos actually are or want to know how to make nachos at home, here's the lowdown on this delightful Mexican favourite.
What are nachos, exactly?
So, what are nachos all about?
Nachos are a delicious concoction of tortilla chips, layered with an array of toppings, and smothered in cheese. They're traditionally served as a snack, but they've evolved into a substantial meal over time.
Trace it back to its roots and you land in northern Mexico, circa 1940s, when Ignacio Anaya first whipped up the dish, aptly named nachos – a shortening of his own name.
What do you put in nachos?
What goes onto a plate of nachos is completely subjective. The basic ingredients remain the same – tortilla chips, cheese, and jalapeños. Beyond these, your choices may range from meats, sour cream, salsa to guacamole.
Tortilla chips
The foundation of any plate of nachos is the humble tortilla chip. They should be thick and crispy and able to remain firm under all the toppings. Our Old El Paso™ Nachips are double-cooked, so they can take all the loading and dipping you throw at them.
Cheese
When Ignacio Anaya created nachos, cheese was one of the few ingredients within his reach. The genius of melting cheese over tortilla chips can never be overlooked. Cheddar cheese is a popular choice these days, though Monterey Jack and Mozzarella work just as well. Nacho cheese, or cheese sauce, is another delightful interpretation of this key ingredient.
Meat
To transform your nachos into a heartier snack or even a main meal, consider adding a meat filling. Pulled pork, chicken, chilli, steak or chorizo, all work beautifully, especially when you use one of our Old El Paso™ seasoning mixes to up the flavour and save precious time.
Salsa
A quality salsa complements the other ingredients and can add a pleasant zing. A mellow pico de gallo or a spicy salsa verde can make all the difference. Save time with our Old El Paso™ chunky salsas available in mild and hot varieties.
Jalapeño
Jalapeños are a vital ingredient in nachos, adding a welcome heat and flavour to every mouthful. Use our Old El Paso™ pre-sliced red and green jalapeños for convenience. Amp up the spiciness by adding the seeds as well.
How to make homemade nachos?
Nachos are best prepared with fresh, simple ingredients – you don't need to work in your kitchen for hours.
For optimum results, bake your nachos in the oven, but if need be, you can also whip them up in the microwave.
Start by lining a baking tray with foil, and evenly spread out your tortilla chips. Scatter your choice of shredded cheese on top and pop them into a preheated oven at about 220°C for roughly 5 minutes or until the cheese is completely melted.
Next, layer on your selected toppings – drizzle your favourite salsa, sprinkle your choice of meat or vegetable fillings and scattered jalapeño peppers. Just before serving, finish with guacamole and sour cream.
A great way to serve nachos to a larger party is to layer them, baking in between each layer. Start with a base of tortilla chips, cheese, salsa, jalapeño, and any warm fillings like meats and veggies.
Once the cheese melts, remove from the oven, add another layer, and repeat. This extra step ensures your nachos are well-covered and evenly baked from top to bottom.
How to make nacho cheese?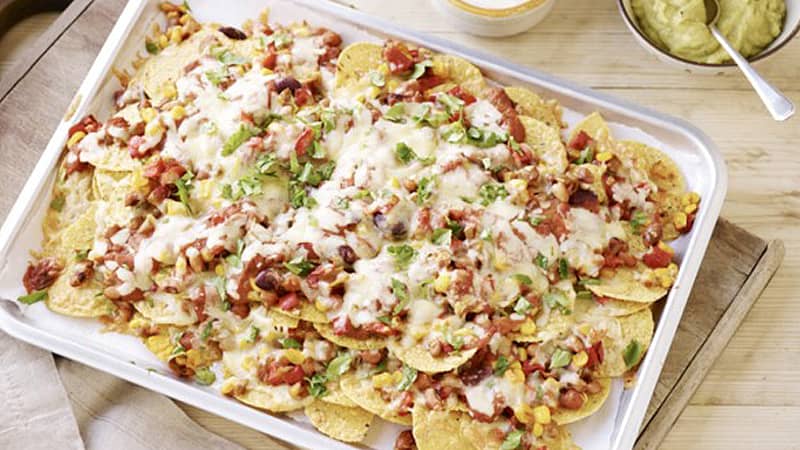 The two best methods to make nacho cheese are either using shredded cheese melted in the oven, or making a classic cheese sauce:
Wondering how to whip up a cheese sauce for nachos? It's easier than you think and requires just a few ingredients:
Start with an even amount of butter and flour on a skillet, about a tablespoon or two of each, and melt and whisk them together until churning bubbles. This shouldn't take more than a minute.
Pour in a cup of milk and stir until it begins to thicken, then dim the heat. Gradually add in grated cheese – cheddar is a go-to – and continue to stir until it seamlessly merges with the sauce. Now's the time for a light seasoning; a pinch of salt should suffice. Feeling adventurous? Toss in some chilli powder or cayenne for an enjoyable kick.

Chicken, Lime & Coriander Nachos
Twice cooked, extra crunchy Nachips topped with spicy chunks of chicken, juicy peppers, zesty lime and coriander, smothered in piping hot, gooey melted cheese. This chicken nachos recipe has it all: hot, cold, soft and crunchy.
Recipe Name
Chicken, Lime & Coriander Nachos
Total Time
15 minutes
Spice Level
Mild
Servings
4
Ingredients
1 Old El Paso™ Original Nachos Dinner Kit
450 g chicken breasts cut into small chunks
150 g of finely grated cheese
1 crisp red pepper, deseeded and chopped
1 tangy lime (juice and grated zest)
1 tablespoon of corn or vegetable oil
A dollop of sour cream and chunky guacamole for the side
A sprinkling of freshly chopped coriander to garnish
Preparation
Crank the oven to 180ºC (160ºC for fan assisted ovens), gas mark 4. Heat a drop of oil in a pan, tip in the diced chicken and sizzle for 2-3 minutes until it's golden brown.
Stir in the chopped pepper and cook for a further two minutes. Toss one sachet of our Nachos Topping into the mix and simmer for 3-4 minutes. Finally, squeeze in the lime juice, add the zest and garnish with freshly chopped coriander.
Grab the Nachips and spread them onto an oven proof baking dish. Our Extra thick chips are double cooked so they're super crunchy and strong enough to load up with lots of toppings. Spoon over some chicken mix and cheese.
Keep going, making three layers and pour over the second packet of Nachos Topping plus another layer of cheese for good measure.
Leave it in the oven for 10 minutes until the cheese is melted and bubbling then dish up your citrusy and spicy lime and coriander chicken nachos with a dollop of sour cream and chunky guac, a pile of napkins and let the whole family have at them.