How to Make Enchiladas at Home
Coming together for a hearty meal with loved ones is at the heart of what Mexican cuisine is all about.
Though a trip to beautiful Mexico remains a dream for many, you don't need to be there to enjoy some of its most popular dishes. With a little help, you can cook up delicious, fresh Mexican meals in the comfort of your own kitchen.
We've got you covered with the necessary tips on how to make enchiladas at home – exploring their origin and guiding you through pairing options. It's time to learn how to make enchiladas!
What are enchiladas, exactly?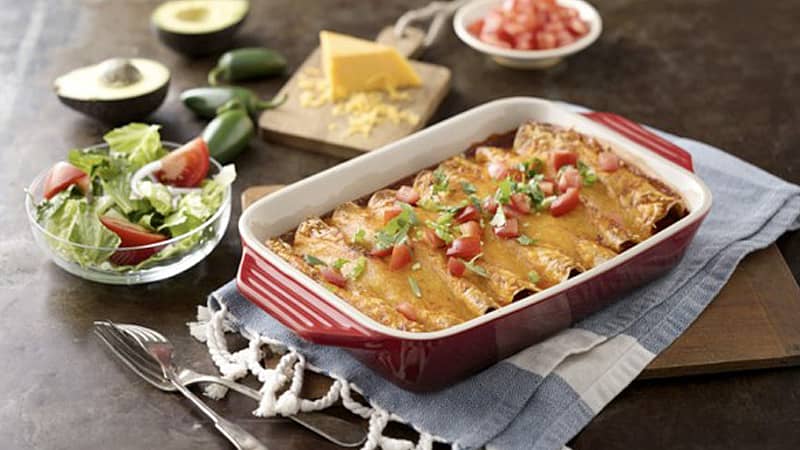 First things first, what are enchiladas?
They're kind of like a Mexican twist on a burrito. Picture this, a flour or corn tortilla, packed full of your favourite fillings, rolled up tightly and smothered in tasty sauce and melted cheese. This is one Mexican dish that requires a fork and knife.
From its humble beginnings as a street food – a simple tortilla roll dipped in chilli sauce, to the saucy, cheesy treat we have today, enchiladas have come a long way. "Enchiladas", interestingly, it's a mashup of two Nahuatl words, 'chilli' and 'flute'.
Ever wondered what goes into making tasty enchiladas? It's a mix of meat or beans, fresh vegetables, loads of cheese, an array of sauces, and tortillas large enough to roll and fill. Toppings like guacamole, sour cream, and coriander amplify the enjoyment.
Tortillas
If you're going to be an enchilada chef, your first ingredient would be soft tortillas. But not just any kind, they should be large enough to easily fill and roll. Our Old El Paso™ Super Soft Flour Tortillas are ideal for this. You can also opt for whole wheat or corn if you like.
Meat filling
The two major fillings for your enchiladas can be chicken or beef (you can use leftover burrito filling for this). Or if you're a vegetarian, black beans are a great option too!
Cheese
Cheese is the icing on the enchilada! Add it to your wraps with sauce for the ultimate taste.
Sauce
What sets enchiladas apart from its cousins, burritos and tacos? The sauce, of course! This is what truly defines an enchilada. But don't worry, our Old El Paso™ Enchilada Cooking Sauce can take care of the complex mixture. Throw in coriander, parsley, lime juice and garlic for an extra flavour boost.
How to make homemade enchiladas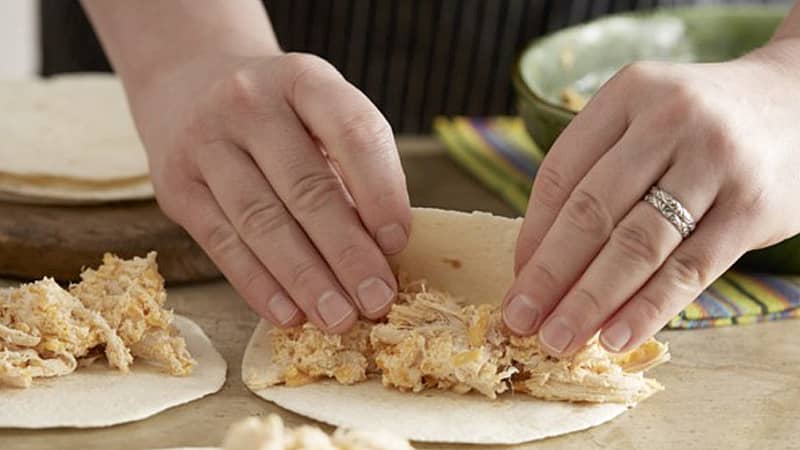 Creating enchiladas is a breeze once you've got all your ingredients rounded up. First, choose your fillings. The options are endless; consider tuna for a lighter twist on this dish, or whip it up for breakfast with bacon and eggs. For vegetarian options, try filling it with black beans, chickpeas, sweet potato or aubergine.
Pop a generous amount of filling into your tortilla, roll it up, and tuck it seam-side-down into a baking dish to help it stay put. Smother it in sauce, blanket it with cheese, and let it cook.
How to make enchilada sauce?
Enchilada sauce is a chilli-driven sauce that lends enchiladas their distinctive flavour. Whip it up at home with tomato paste, vegetable broth, flour, and a variety of spices including chilli powder, cumin and garlic powder.
If that sounds like a bit too much for a weeknight, don't worry, we've got your back. Our Old El Paso™ Enchilada Cooking Sauce delivers the authentic taste you crave, so you can concentrate on perfecting your fillings.
Stir it up in a blender or food processor with some parsley, fresh lime juice, coriander, and garlic. Blend until smooth – and voila, your sauce is ready!
What do you serve enchiladas with?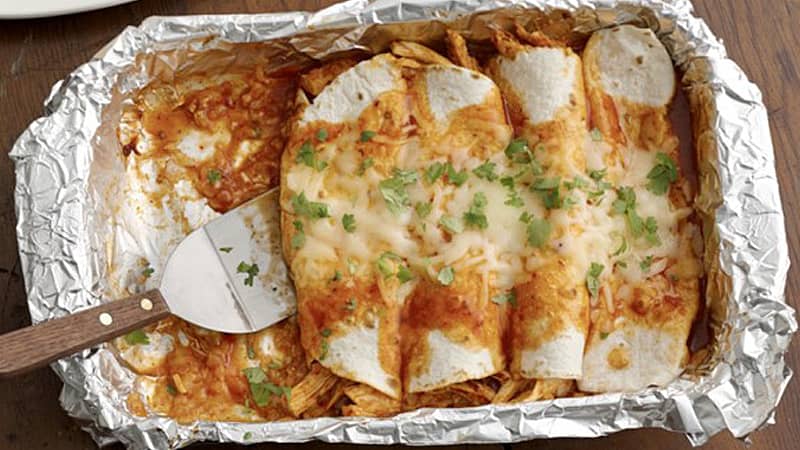 Now you've made your delicious enchiladas, what do you serve them with? Some side dishes we recommend are:
Mexican Fried Rice
Crispy and delicious, fried rice is a trusty friend for your enchiladas. It makes your dinner wholesome, plus you can toss in some meat, veggies, or keep it plain and let it soak up that scrumptious enchilada sauce.
Smashed Beans
Ahh, refried beans. Creamy, versatile and oh-so-yummy! Serve them solo or set them up with tortilla chips for a shareable treat! Want to save on prep time? Keep a can of Old El Paso™ Refried Beans on standby, and you're all set.

Black Bean and Cheese Enchiladas
These veggie enchiladas are a great addition to a party feast.
Recipe Name
Black Bean and Cheese Enchiladas
Total Time
45 minutes
Spice Level
Mild
Servings
4
Ingredients
Cooking spray or vegetable oil for greasing
1 teaspoon vegetable oil
1 onion, finely chopped
1 teaspoon ground cumin
1 tin (425g) Old El Paso™ Black Beans, drained and rinsed
1 pack (326g) Old El Paso™ Super Soft Regular Flour Tortillas, heated
200g Cheddar cheese, grated
1 jar (344g) Old El Paso™ Cooking Sauce for Enchiladas
1/2 cup shredded Cheddar cheese (2 oz)
Preparation
Preheat the oven to 180ºC (160ºC for fan assisted ovens), gas mark 4. Grease a 28 x 18cm (2 litre) baking dish with cooking spray or oil. Heat the oil in a large frying pan over a medium heat and cook the onion for 5-10 minutes, until softened. Add in the cumin and continue to cook for 2 minutes before stirring in the beans.
Spoon about 3 tablespoons of the bean mixture in the center of each warm tortilla. Divide the cheese between the tortillas, reserving 1/4 to sprinkle on top. Roll up tightly and place seam side down in the baking dish. Spoon the enchilada sauce over the tortillas and scatter over the reserved cheese. Grease a large sheet of foil with cooking spray or oil and cover the baking dish, grease side down.
Cook in the oven for 15 minutes or until the cheese has fully melted. Remove the foil and cook for a further 5 minutes, until the cheese has begun to turn golden.
Expert Tips
Make it meaty – add fried chicken strips to your bean mixture.
Serve with a salad, Old El Paso™ Thick 'N' Chunky Salsa and freshly made guacamole for an extra treat.