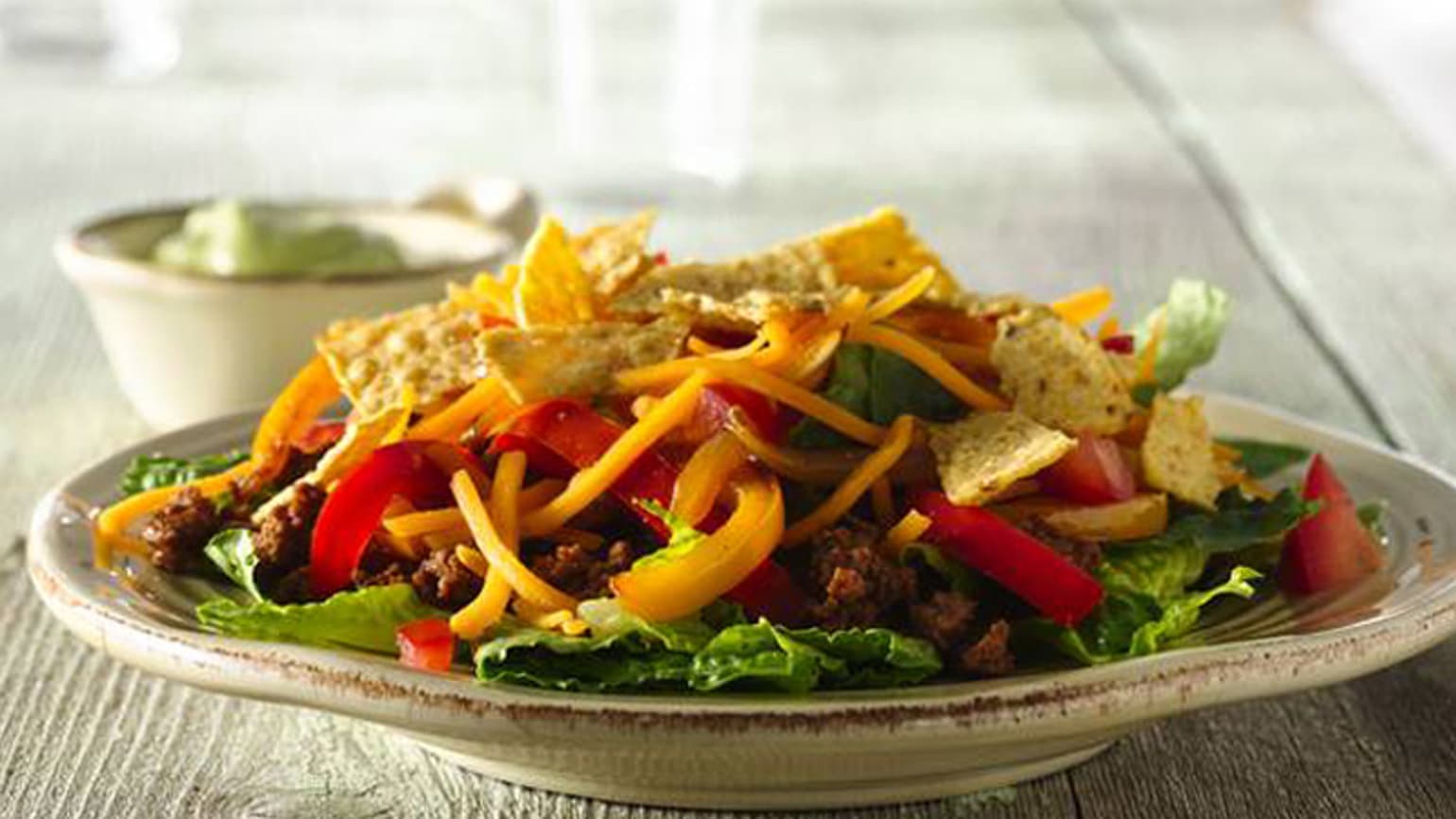 Beef Fajita Taco Salad
Here's a great-tasting taco salad with tons of flavour. It's worth the extra-effort to make the delicious creamy avocado dressing.
Ingredient List
Guacamole Dressing
1 ripe avocado, stoned, peeled and cut into chunks
1 pot (150ml) soured cream
3 tablespoons milk
2 tablespoons lime juice
2 tablespoons chopped fresh coriander leaves
2 tablespoons olive oil
1/2 teaspoon salt
Pinch cayenne pepper
Salad
1 1/2 tablespoons vegetable oil
2 red peppers, deseeded and cut into bite-size strips
1 medium onion, peeled and cut into thin wedges
450g lean beef mince
1 pack Old El Paso™ Smoky BBQ Seasoning Mix for Fajitas
100ml water
2 romaine lettuces, torn into pieces
2 tomatoes, chopped
100g Double Gloucester or Cheddar cheese, grated
100g tortilla chips, roughly crushed
Preparation
To make the dressing, place all the ingredients in a blender or food processor. Process for about 30 seconds or until smooth. Transfer to a small bowl, cover and chill in the refrigerator whilst making the salad.
To make the salad, heat half the oil in a large non-stick frying pan over a medium heat. Add the peppers and onion and cook, stirring, for 5-6 minutes until just tender. Remove and set aside.
Add the rest of the oil to the same pan then add the mince and fry for 5-6 minutes, stirring all the time until browned all over. Stir in the fajita seasoning mix and water and cook for a further 10-15 minutes, stirring occasionally, until the beef is cooked through and most of the liquid has evaporated.
Divide the lettuce between 6 serving plates. Top each with some of the beef mixture, peppers and onion, tomatoes, cheese and tortilla chips. Serve with the dressing.
Expert Tips
If the dressing is too thick, thin it with a little additional milk.
A ripe avocado will be relatively firm, but will give to gentle pressure when squeezed.