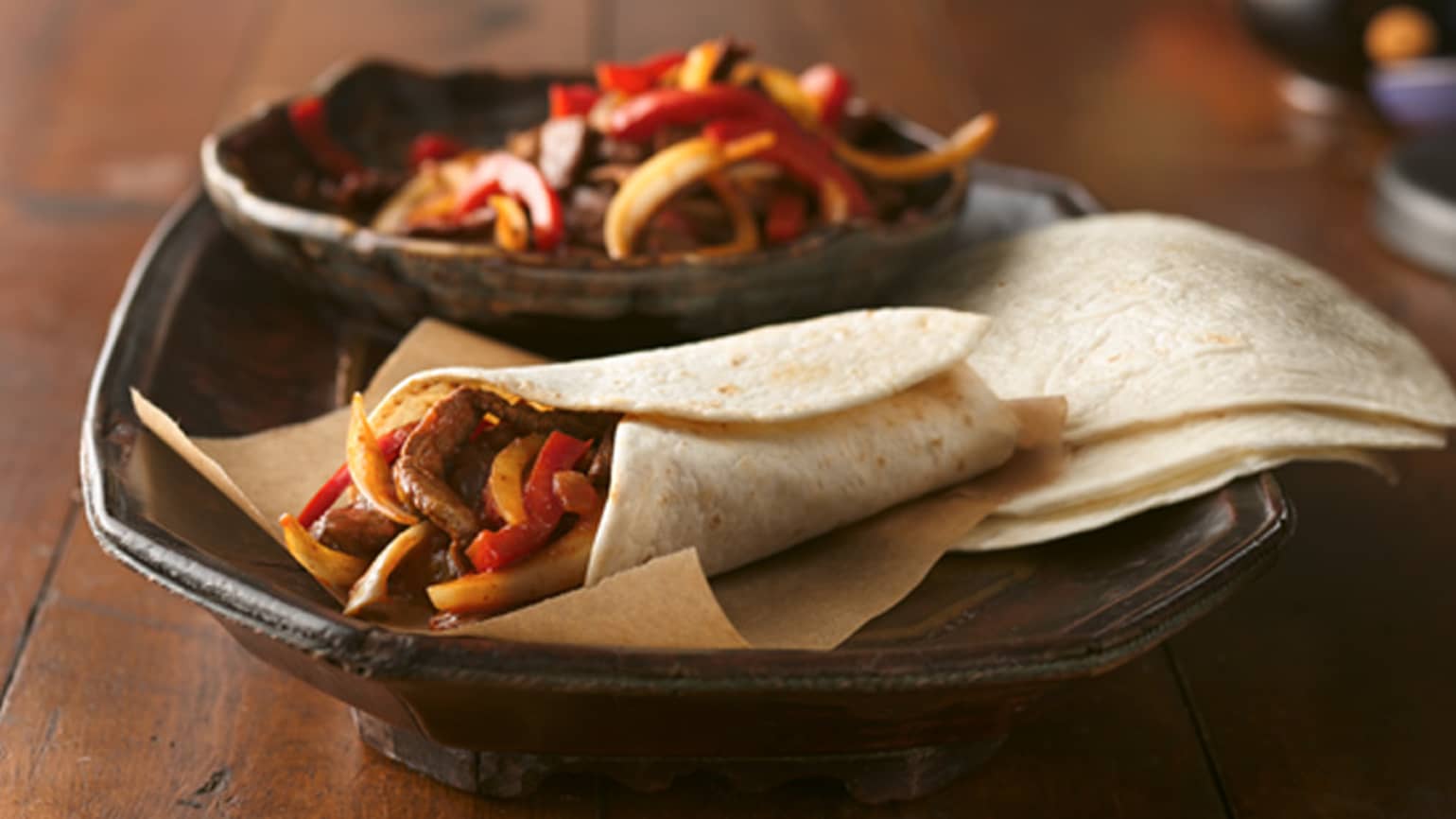 Beef Fajitas
An Old El Paso™ Recipe favourite, these marinated beef fajitas with their citrusy kick will have you wanting more.
Ingredient List
Marinade
2 tablespoons lime juice
1 tablespoon honey
1 tablespoon vegetable oil
2 teaspoons chilli powder
2 cloves garlic, finely chopped
Fajitas
340 g rump steak, sliced
1/2 tablespoon vegetable oil
1 onion, thinly sliced
1 red or green pepper, sliced
1 teaspoon cornflour
60 ml cold water
80 g guacamole
4 Old El Paso™ Super Soft Flour Tortillas, warmed
80 g Old El Paso™ Thick 'N' Chunky Salsa
Preparation
Stir the marinade ingredients together in a medium bowl. Add beef strips and stir to combine. Cover and chill in the fridge for 30 minutes to marinate.
Heat the oil in a large non-stick frying pan over medium-high heat then add the beef and marinade and cook for 2 minutes. Stir in the onion and peppers and continue to cook for 3 to 4 minutes, until the vegetables are just tender.
Stir together the cornflour and water in a small bowl, until smooth. Pour into the beef mixture and cook, stirring, for 1to 2 minutes, until thickened.
Lay each tortilla onto a plate and divide the guacamole between them. Top each with 1/4 of the beef mixture and the salsa. Wrap each tortilla, folding the bottom edge up before rolling and serve.
Expert Tips
Great served with a pineapple or mango salsa. Roll up together with some lettuce, fresh tomatoes and coriander leaves for a change.