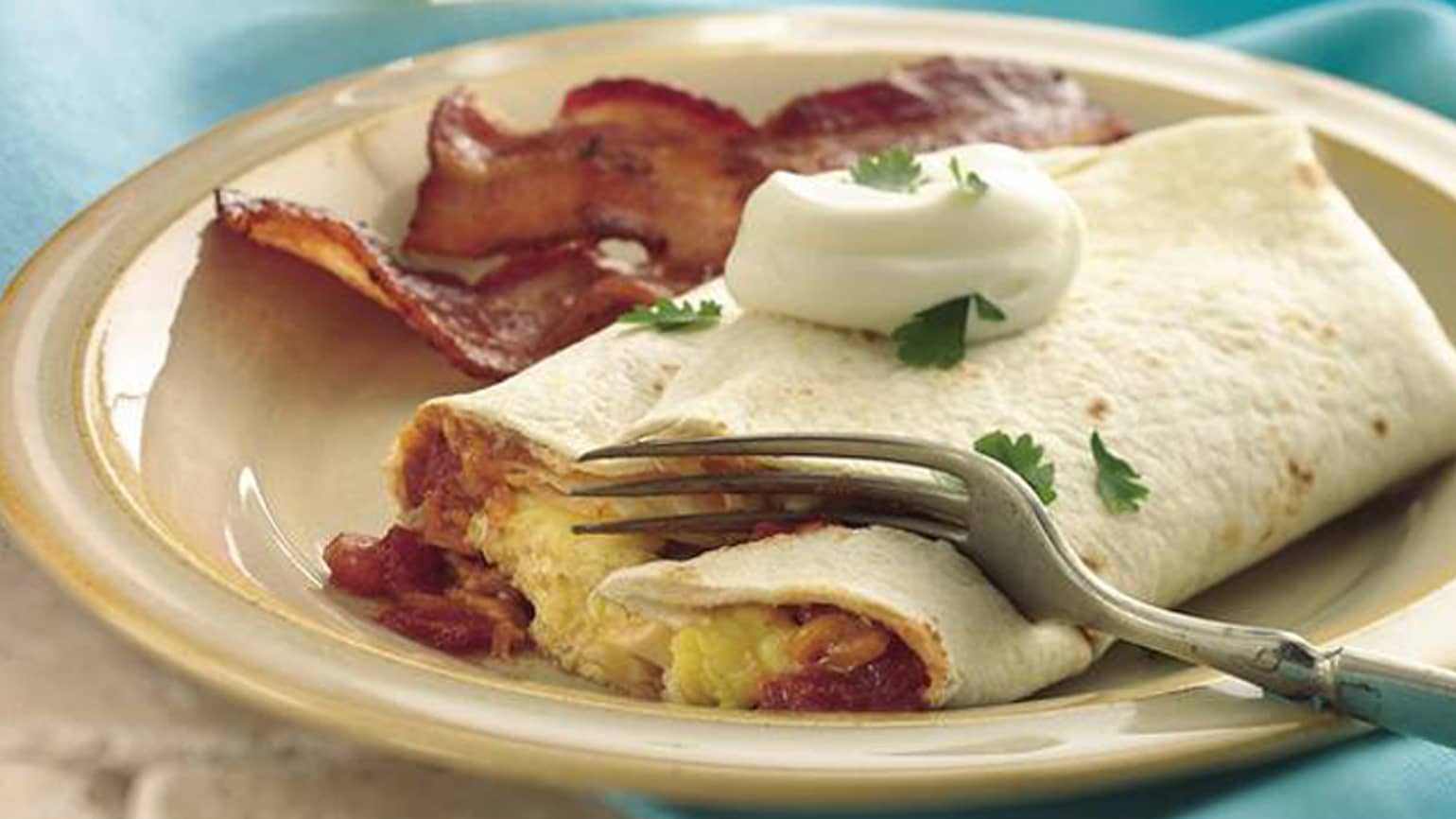 Breakfast Burritos
Jump-start your morning by whipping up something new and tasty for breakfast.
Ingredient List
Burritos
4 large eggs
2 tablespoons milk
15g butter
6 tablespoons Old El Paso™ Refried Beans
100g Old El Paso™ Thick 'N' Chunky Salsa
2 Old El Paso™ Super Soft Large Flour Tortillas, warmed
50g Cheddar cheese, grated
To Serve
Soured cream
Chopped fresh coriander
Crispy grilled streaky bacon rasher
Preparation
Beat the eggs and milk together with a fork in a small bowl. Season to taste with salt and freshly ground black pepper.
Melt the butter in a 25cm non-stick frying pan over a medium heat. Pour the egg mixture into the pan and cook for 3-4 minutes until the eggs are just set. As the eggs are cooking, use a spatula to gently lift the cooked parts to allow the uncooked eggs to flow underneath. Remove from the heat and keep warm.
Spread the refried beans and salsa on the tortillas to within 1cm of the edge. Sprinkle with the cheese. Place each one on a microwavable plate. Microwave each one on High for 45-60 seconds until the tortilla and beans are hot and the cheese is starting to melt.
Slide the cooked egg onto a board and cut in half. Place one half in the centre of each tortilla. Fold the top and bottom ends of each tortilla about 2cm over the filling. Fold the right and left sides over the folded ends, overlapping. Cut each burrito in half and top with soured cream and chopped coriander. Serve with a side of crispy bacon.
Expert Tips
For a veggie breakfast serve with grilled Portobello mushrooms or halved beefsteak tomatoes instead of the bacon.
For a really spicy egg filling, fry 1 finely chopped red chilli in the melted butter for a few seconds before adding the egg.