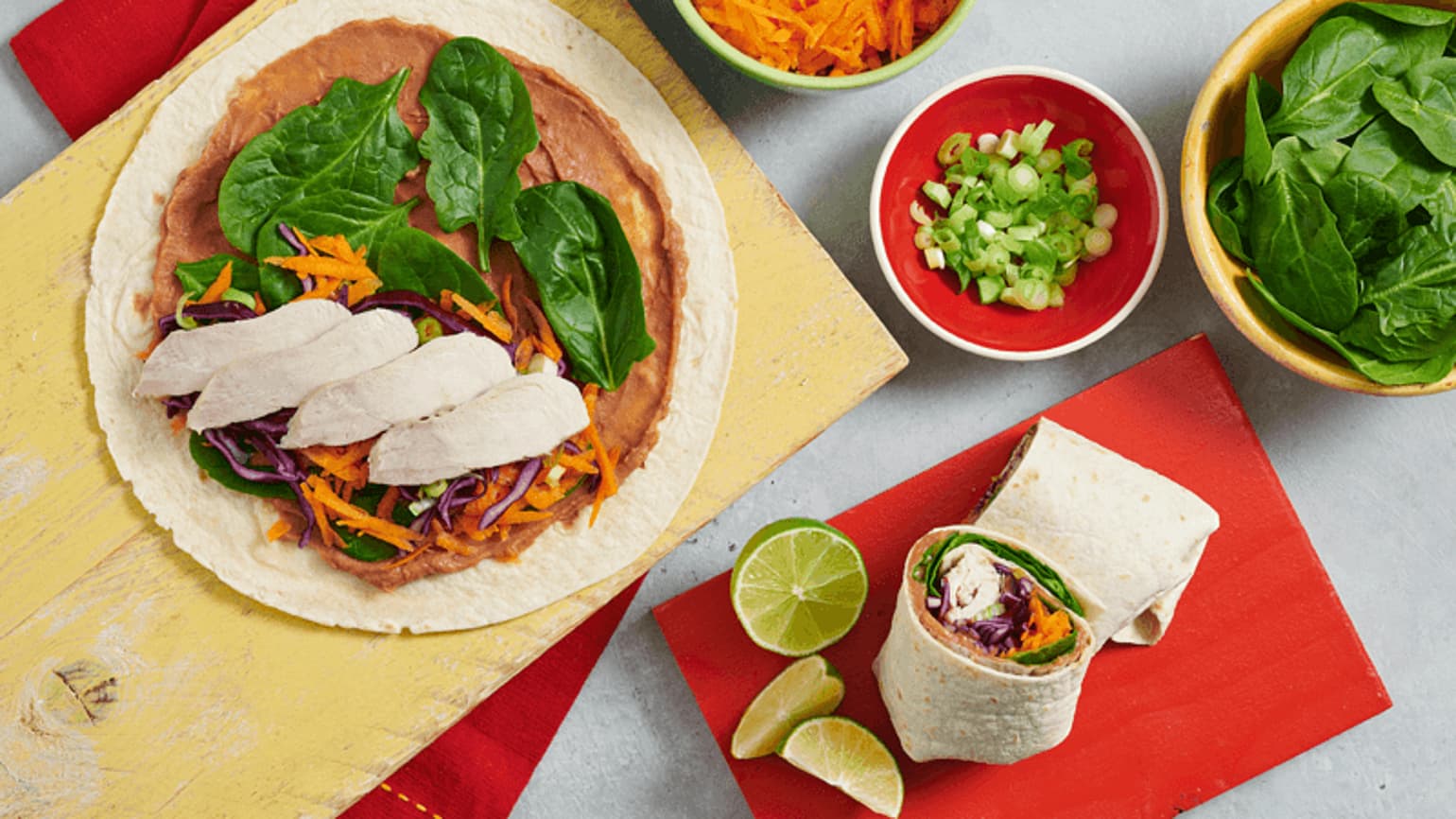 Chicken and Veggie Wraps
Great for a filling snack, speedy lunch or picnic these chicken and crunchy veggie wraps are packed full of fresh flavours!
Ingredient List
1 x 435g tin Old El Paso™ Refried Beans
1 1/2 tablespoons Old El Paso™ Seasoning Mix for Fajitas (any flavour)
1 pack Old El Paso™ Large Flour Tortillas™ (6 tortillas)
75g baby spinach leaves
200g carrots, peeled and coarsely grated
100g red cabbage, finely shredded
4 spring onions, trimmed and finely chopped
180g cooked chicken, skin removed and thinly sliced
2 tablespoons lime juice, plus extra lime wedges, to serve
Preparation
Combine the refried beans and seasoning mix in a medium bowl.
Warm the tortillas to pack instructions. Spread each tortilla with 1/6 of the refried bean mixture leaving a 2cm border all around. Top each with a layer of spinach leaves.
Arrange 1/6 of the carrots, cabbage, and spring onions in a horizontal line on the bottom half of each tortilla and top with 1/6 of the chicken. Sprinkle the lime juice over the chicken and vegetables.
Fold the sides of each tortilla about 2cm over the filling then use both hands to firmly fold and roll the wraps to completely enclose the filling. Place seam-side down after rolling and leave for 5-10 minutes before cutting. Cut each wrap in half and serve with lime wedges, if you like.
Expert Tips
If you are not eating the wraps straight away, wrap tightly in foil or cling film and store in the refrigerator up to 8 hours. Wraps are best when eaten the same day.
Any other fresh and crunchy veg can be used in these wraps – try thinly sliced peppers and grated courgette and radishes for a flavour change.