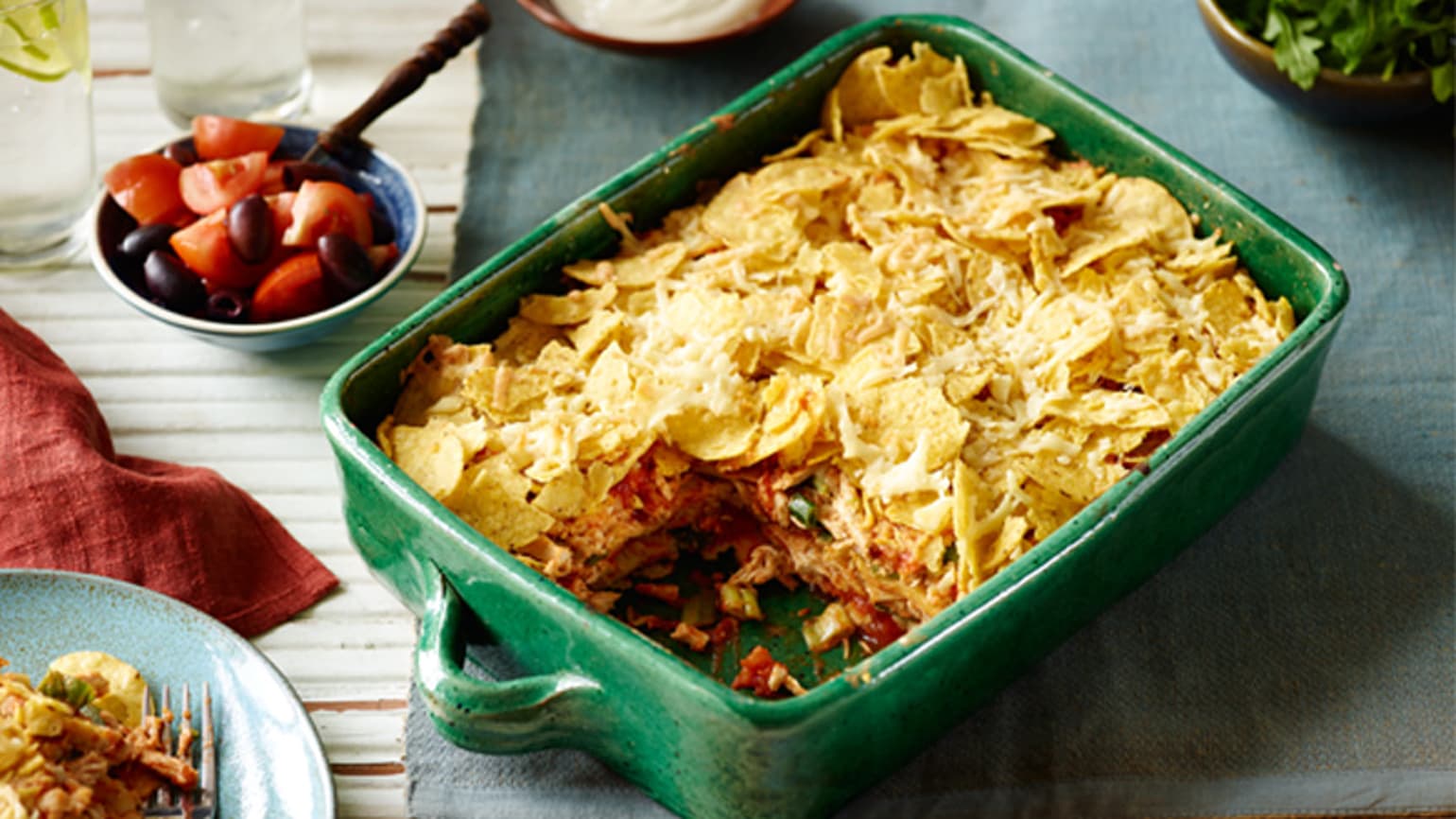 Chicken Enchilada Lasagne
Mexico meets Italy in this surprisingly simple dish--just layer cooked chicken, cheese, salsa, and other enchilada ingredients between tortillas.
Ingredient List
Lasagne
1 jar (344 g) Old El Paso™ Cooking Sauce for Enchiladas
125 g Old El Paso™ Thick 'n Chunky Salsa
500 g cooked chicken, shredded
125 g soured cream
8 spring onions, sliced
2 tablespoons Old El Paso™ Garlic & Paprika Seasoning Mix for Tacos
1 pack Old El Paso™ Super Soft Corn Tortillas (8 pack), cut in half
225 g Cheddar cheese, grated
150 g Old El Paso™ Original Nachips™, crushed
To Serve
1 large tomato chopped
2 tablespoons black olives, sliced
Small handful of fresh coriander leaves
Preparation
Preheat the oven to 190 ºC (170 ºC for fan assisted ovens), gas mark 5. Grease a large baking dish (about 3 litres). Mix the enchilada sauce and salsa in a small bowl and pour three quarters of the mixture into a large bowl, reserving one quarter.
Add the chicken, soured cream, half of the spring onions and the taco seasoning mix to the large bowl and mix together.
Spoon the reserved enchilada sauce mix into the bottom of the baking dish. Arrange half of the tortilla pieces over the sauce, overlapping as necessary. Spoon half of the chicken mixture over the tortillas, sprinkle with 2/3 of the cheese. Then repeat with the tortillas and chicken mixture. Scatter over the tortillas chips and remaining cheese, then cover with foil and cook for 30 minutes. Remove foil and bake an additional 5 to 10 minutes or until light golden brown.
Remove from the oven and serve with the tomatoes, olives, remaining spring onions and coriander leaves.
Expert Tips
You can make this using 500g cooked beef mince instead of the chicken.
Great served with a fresh and tasty rocket salad.