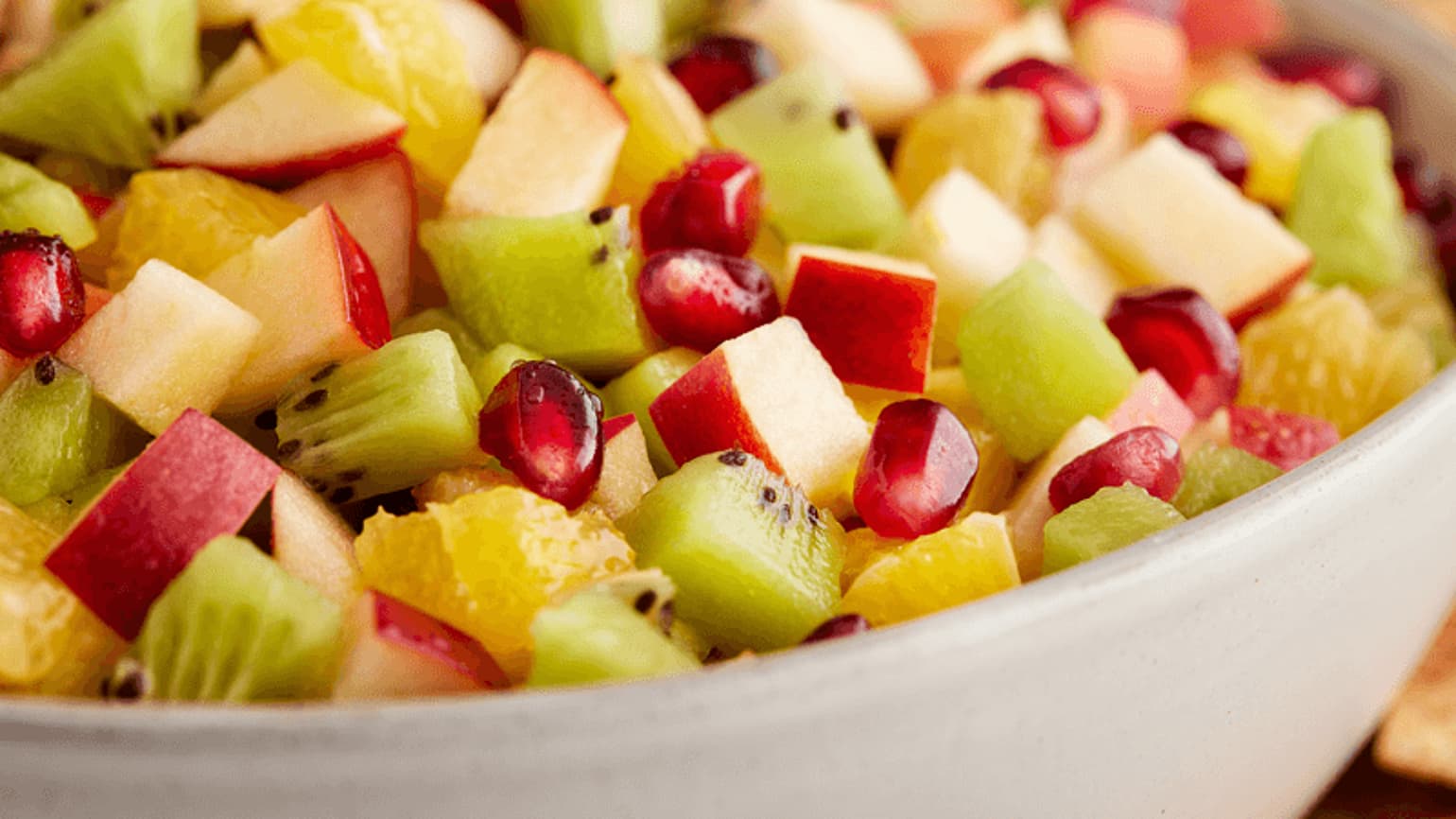 Christmas Fruit Salsa
This beautiful Christmas salsa takes basic fruit up a notch with bright seasonal pomegranate and orange, plus delightfully buttery cinnamon-sugar crisps for serving.
Ingredient List
Cinnamon Crisps
Vegetable oil, to grease
1/2 teaspoon ground cinnamon
3 Old El Paso™ Regular Flour Tortillas
30g butter, melted
1 tablespoon caster sugar
Fruit Salsa
1 lime
1 tablespoon caster sugar
2 small oranges, peel and white pith removed and diced
1 red-skinned apple, cored and finely chopped
1 kiwifruit, peeled and finely chopped
75g pomegranate seeds
Preparation
Preheat the oven to 200°C (180°C, for fan assisted ovens), gas mark 6. Lightly grease a large baking sheet.
To make the crisps, mix the 1 tablespoon of sugar and cinnamon together in a small bowl. Cut each tortilla into 8 wedges and place on the baking sheet. Brush both sides of each wedge generously with the butter then lightly sprinkle the cinnamon sugar mixture over both sides. Bake for 5-7 minutes or until light golden brown, turning once. Transfer to a wire rack and leave to cool completely.
Meanwhile, make the salsa. Squeeze the juice from the lime into a medium bowl and stir in the remaining 1 tablespoon sugar until dissolved. Add the orange, apple, kiwifruit and pomegranate seeds and mix well. Serve with the cinnamon crisps.
Expert Tips
Buy a pot of pre-seeded pomegranate to save time on prep.
The juice from the lime and orange protects the apples from browning, so you can make the salsa a day ahead. Toss the salsa well, then cover and refrigerate. Stir before serving.