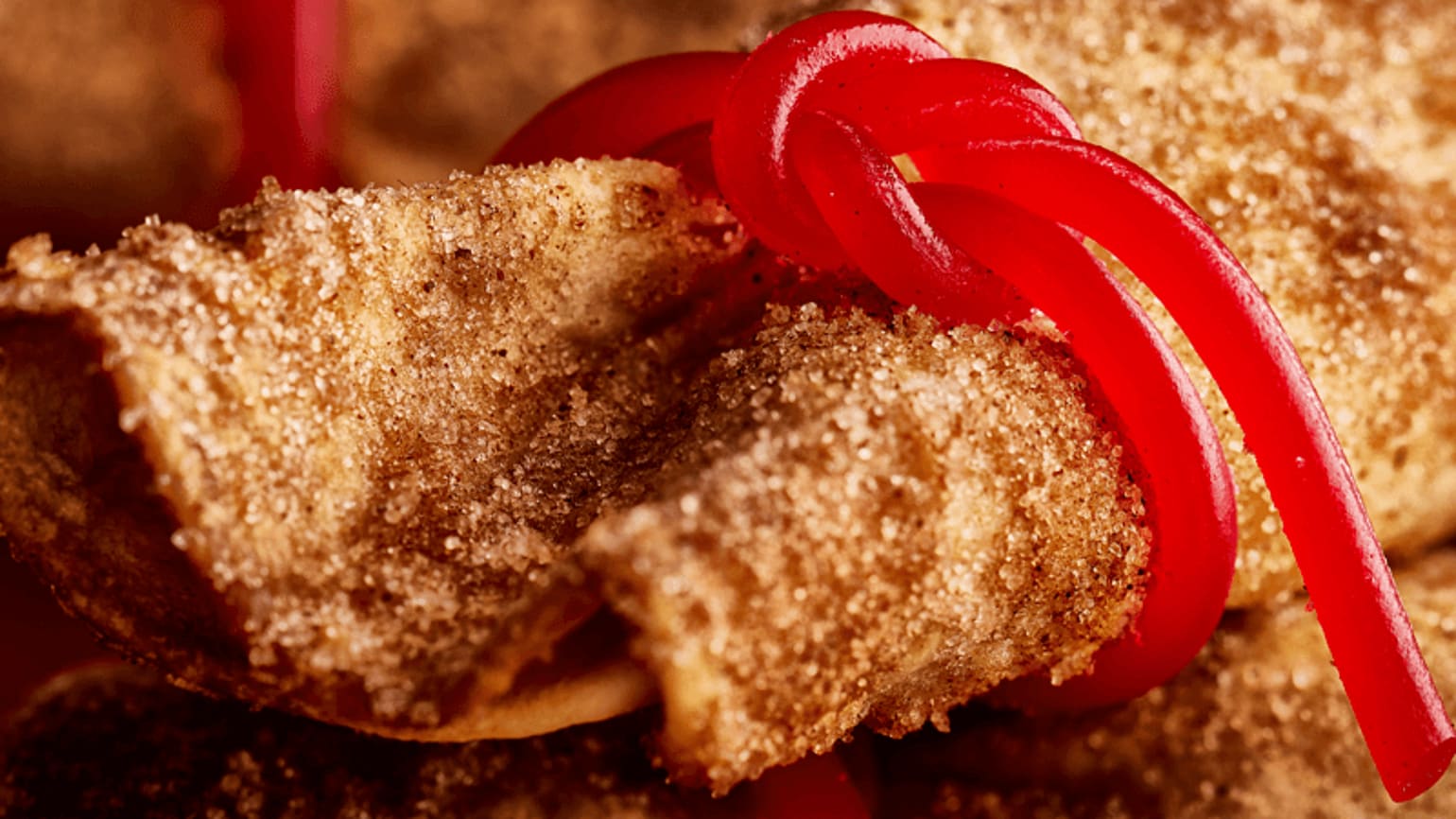 Christmas Tortilla Crackers
Pull apart these festive cinnamon sugar crusted baked tortilla 'crackers ' to find a delicious toffee and soft cheese filling – they're totally irresistible!
Ingredient List
300g full fat soft cheese
4 tablespoons toffee sauce, plus 75g extra for dipping
50g caster sugar
1 teaspoon ground cinnamon
1 pack Old El Paso™ Regular Flour Tortillas
40g unsalted butter, melted
4 long strawberry flavoured laces, each cut into 4
Preparation
Preheat the oven to 200°C (180°C for fan assisted ovens), gas mark 6. Line a large baking sheet with baking paper.
Put the soft cheese in a bowl and fold in the 4 tablespoons of toffee sauce. Mix together the caster sugar and cinnamon and spread on a dinner plate.
Place a heaped spoonful of the soft cheese mixture into the centre of one tortilla. Roll up to enclose the filling then pinch each end of the rolled tortilla with your fingertips to create a 'cracker' shape. Tie short lengths of fine kitchen string around each pinch to hold the shape in place during baking. Repeat with the rest of the filling and tortillas to make 8 'crackers' in total.
Brush each 'cracker' all over with melted butter and roll in the cinnamon sugar to coat. Place on the baking sheet. Bake for 8-10 minutes until crisp and golden (don't worry if the sugar caramelizes a little at the ends of the 'crackers').
Leave to cool on the baking sheet for 10 minutes then carefully snip away and discard the string. Tie the pieces of strawberry laces in place of the string. Serve the 'crackers' warm with the extra toffee sauce for dipping.
Expert Tips
Don't roll the tortillas up too tightly otherwise the filling will leak out. If you don't have kitchen string to hold the cracker shape use a small strip of rolled foil wrapped around each pinch.
For a fruity filling, replace the toffee sauce with 2 teaspoons icing sugar and 50g hulled and finely chopped strawberries. Serve with strawberry sauce for dipping.