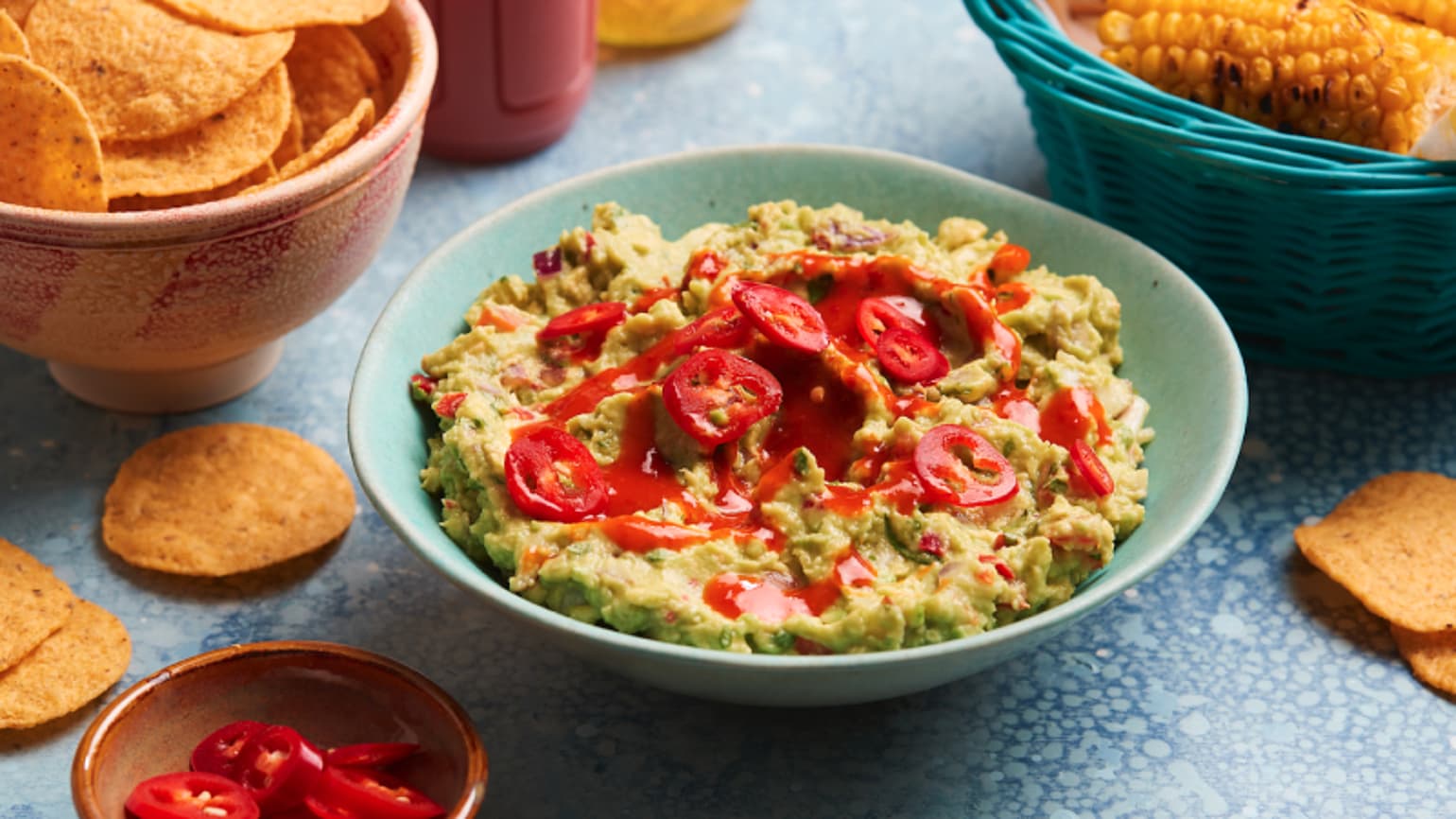 Chunky Chilli Guacamole
Fire up the flavour and feel the heat with this chunky chilli guacamole, perfect if you like a little spice.
Total Time
1 Hours
20 Minutes
Ingredient List
2 large ripe avocados, peeled, stones removed and flesh mashed
2 large ripe avocados, peeled, stones removed and flesh mashed
1/2 small red onion, finely chopped
1 garlic clove, crushed
2 red chillies, deseeded and finely chopped, plus extra, sliced, to garnish
2 tablespoons freshly chopped coriander
1/2 teaspoon crushed dried chillies
2 tablespoons lime juice
1/4 teaspoon salt
1 tablespoon Sriracha sauce, or to taste
Preparation
Mix all the ingredients except the Sriracha sauce in a serving bowl. Season with freshly ground black pepper, if you like.
Cover the surface closely with cling film and refrigerate for 1 hour to allow the flavours to blend. Drizzle over the Sriracha sauce, garnish with the extra sliced chilli and serve.
Expert Tips
Chilli peppers can vary in heat intensity but as a general guide thin chillies are hotter than larger ones so choose accordingly. For an extra fiery flavour go for 1-2 small round scotch bonnet chillies instead - they are way up on the chilli heat scale!
Try hot pepper or sweet chilli sauce, instead of the srirachi sauce drizzle, if you like.
Don't just dip! Spoon dollops of this super hot guac onto 1cm thick cucumber slices or into Old El Paso™ Tortilla Bowls and serve as party canapés with drinks.
Cooking Gluten Free? Always read labels to make sure each recipe ingredient is gluten free. Products and ingredient sources can change.