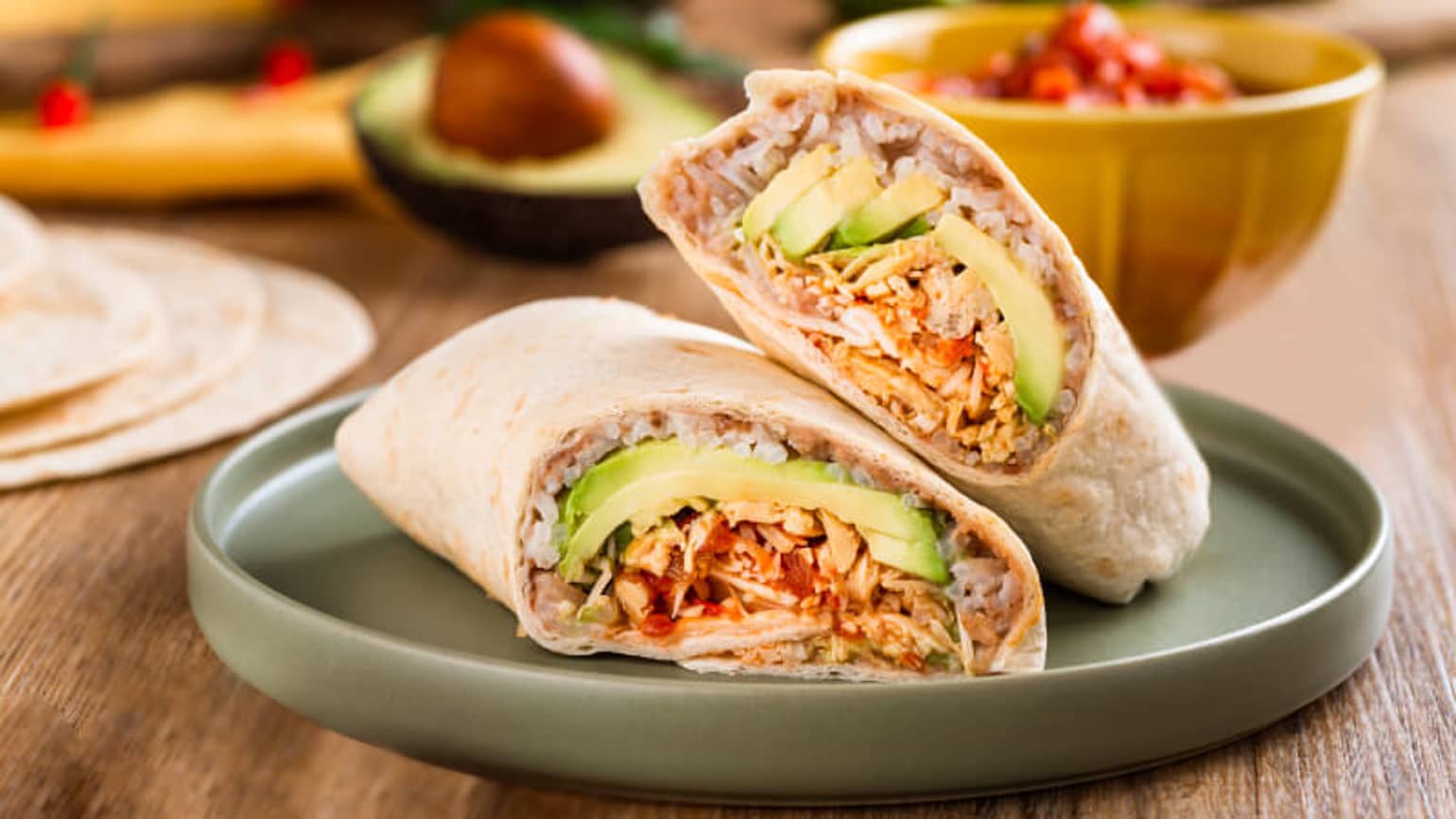 Easy Chicken Burrito
This no-fuss chicken burrito recipe requires no cooking and minimal clean-up. Made with leftover chicken, refried beans, rice, avocado, salsa, and cheese, it's inspired by San Francisco's Mission Burritos. Perfect as a quick and tasty meal when you want to spend more time with your family and friends and less time in the kitchen.
Ingredient List
Old El Paso™ Super Soft Flour Tortillas
Old El Paso™ Refried Beans
1 Old El Paso™ Thick 'N' Chunky Salsa Tomato Salsa
250g cooked rice
500g shredded leftover cooked chicken
250g grated cheese
1 ripe avocado
Preparation
Pierce the soft flour tortillas package and warm it in the microwave for 35-45 seconds.
Using the back of a spoon, spread a thin layer of the refried beans over each tortilla, almost to the edge. The refried beans help to hold the ingredients and tortillas together.
Add cooked rice, again spreading with the back of a spoon, leaving a gap of about 3cm from the edge of the tortilla.
On top of the rice, add sliced avocado forming a rectangular shaped "column". Fresh ingredients like lettuce, red cabbage, or tomato work great, too.
Use a fork to shred the leftover chicken into bite-sized chunks and layer on top of the column of avocado.
Alternatively, to prepare uncooked chicken, place oil in large frying pan over a medium heat, add the chicken and cook until the meat is golden in colour no longer be pink inside.
Spoon a dollop of salsa on top of the chicken.
Sprinkle grated chicken on top of the salsa.
Option: add your favourite Mexican garnishes like coriander, chillies, radishes, or a squeeze of lime.
To Serve:
Now it's time to roll. Position the tortilla, so the "column" runs left to right and fold in the two sides using both hands.
Then tightly roll the tortilla from the bottom to the top while maintaining the edges' firm grip.
Cut the burrito in half and serve with crisps, tortilla chips, or even French fries.
Or, for a more authentic Mission Burrito style, wrap the burrito in foil — perfect for packed lunches or on the go.