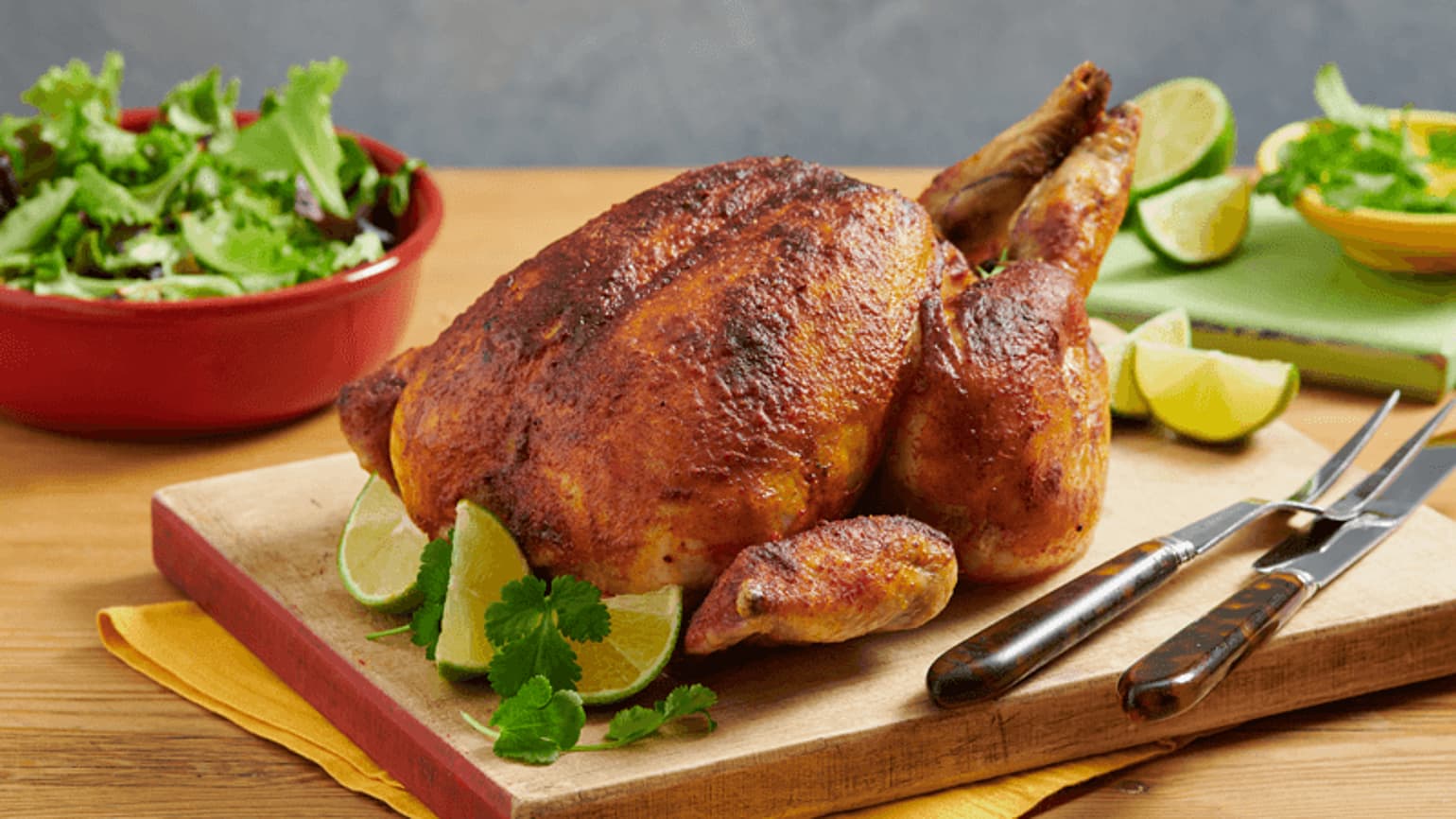 Easy Fajita Roast Chicken
Take the Sunday roast to the next level with this amazing Tex-Mex version. Simply smother the skin with Old El Paso™ Fajita Seasoning Mix before it goes in the oven!
Total Time
2 Hours
20 Minutes
Ingredient List
1 x 1.8kg oven-ready chicken
1 tablespoon olive oil
1 sachet Old El Paso™ Seasoning Mix for Fajitas (any flavour)
1 lime, cut into wedges
Few fresh coriander sprigs, to garnish
Preparation
Preheat the oven to 200°C (180°C for fan assisted ovens), gas mark 6. Place the chicken in a large roasting tin.
Rub half the oil all over the chicken skin. Rub most of the seasoning mix all over the skin and the rest inside the cavity of the chicken, or use the rest for roast potatoes (see Tips). Drizzle over the rest of the oil. Pour 200ml water around the chicken. Cover the roasting tin with a large sheet of foil (see Tips) and roast for 1 hour.
Remove the roasting tin from the oven, remove the foil and baste the chicken with the pan juices. Return the tin to the oven and roast the chicken, uncovered, for a further 40-50 minutes or until thermometer reads at least 75°C on instant-read meat thermometer inserted so tip is in thickest part of inside thigh and does not touch bone. Juices should run clear and legs should move freely when wiggled.
Transfer the chicken to a warmed platter, cover loosely with foil and leave to rest for 20 minutes. Serve with lime wedges and garnished with coriander sprigs.
Expert Tips
Cover the chicken with a tent of foil and seal it tightly around the edges of the tin but don't let the foil touch the skin. The water in the base of the tin will create steam during the first hour of roasting to keep the flesh super-moist.
For spiced roasties to serve with the chicken, reserve 1 tablespoon of the seasoning mix and sprinkle over 1.2kg par-boiled and drained potato chunks with 1/4 teaspoon salt. Heat 1 1/2 tablespoons vegetable oil in a shallow roasting tin and add the potatoes. Roast at 200°C (180°C for fan assisted ovens), gas mark 6 for 1 hour 15 minutes, turning once, until crisp and tender.