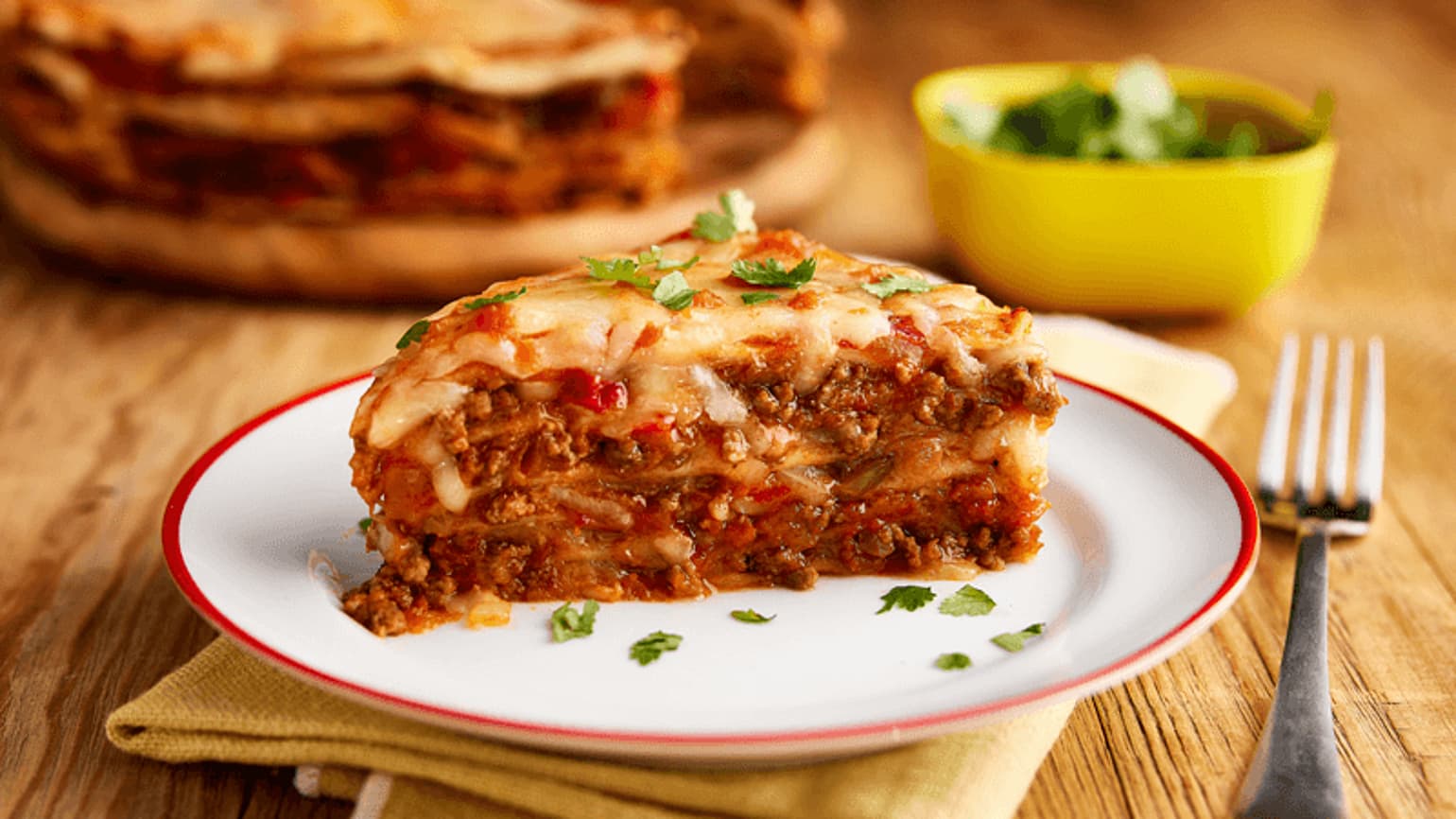 Cheesy Mexican Lasagne
This lasagne recipe takes an iconic Italian dish and adds Mexican flavours, plus the ease of tortillas for a simplified spin on classic comfort food.
Total Time
1 Hours
35 Minutes
Ingredient List
1 tablespoon vegetable oil, plus extra for greasing
1 x 226g jar Old El Paso™ Thick 'N Chunky Salsa
500g lean beef mince (5-10% fat content)
1 medium onion, chopped
1 red pepper, deseeded and diced
1 x 35g sachet Old El Paso™ Sweet Paprika & Garlic Seasoning Mix for Tacos
1 x 435g tin Old El Paso™ Refried Beans
6 Old El Paso™ Super Soft Flour Tortillas
250g ready-grated mozzarella cheese
2 tablespoons freshly chopped coriander
Preparation
Preheat the oven to 200°C (180°C for fan assisted ovens), gas mark 6. Grease a 23cm springform tin with oil. Spread 50g of the salsa in the bottom of the pan. Reserve another 50g of the salsa in small bowl and set aside.
Heat the 1 tablespoon of the oil in large frying pan over medium-high heat. Add the beef, onion and bell pepper and cook for 8-9 minutes, until the beef is no longer pink, stirring frequently. Drain off any excess fat, if needed. Add the seasoning mix and remaining salsa and cook, stirring for 1 minute. Remove from the heat.
Spread 1/5 of the refried beans on top of 1 tortilla and place in the tin over the salsa. Spoon 1/5 of the beef mixture on top. Sprinkle with 1/6 of the cheese, then repeat the layering 4 times. Top with the remaining tortilla, spread the reserved salsa over the top and sprinkle with the remaining cheese.
Cover with greased foil and bake for 40 minutes. Uncover and bake for a further 5-7 minutes or until the filling is hot and the cheese is melted. Let stand for 10 minutes. Run a knife around the inside of the tin pan; and remove the springform tin ring. Sprinkle over the coriander and cut into 8 wedges to serve.
Expert Tips
Place the springform tin on a baking sheet to catch any possible drips.
For easy cutting, use a long serrated knife.