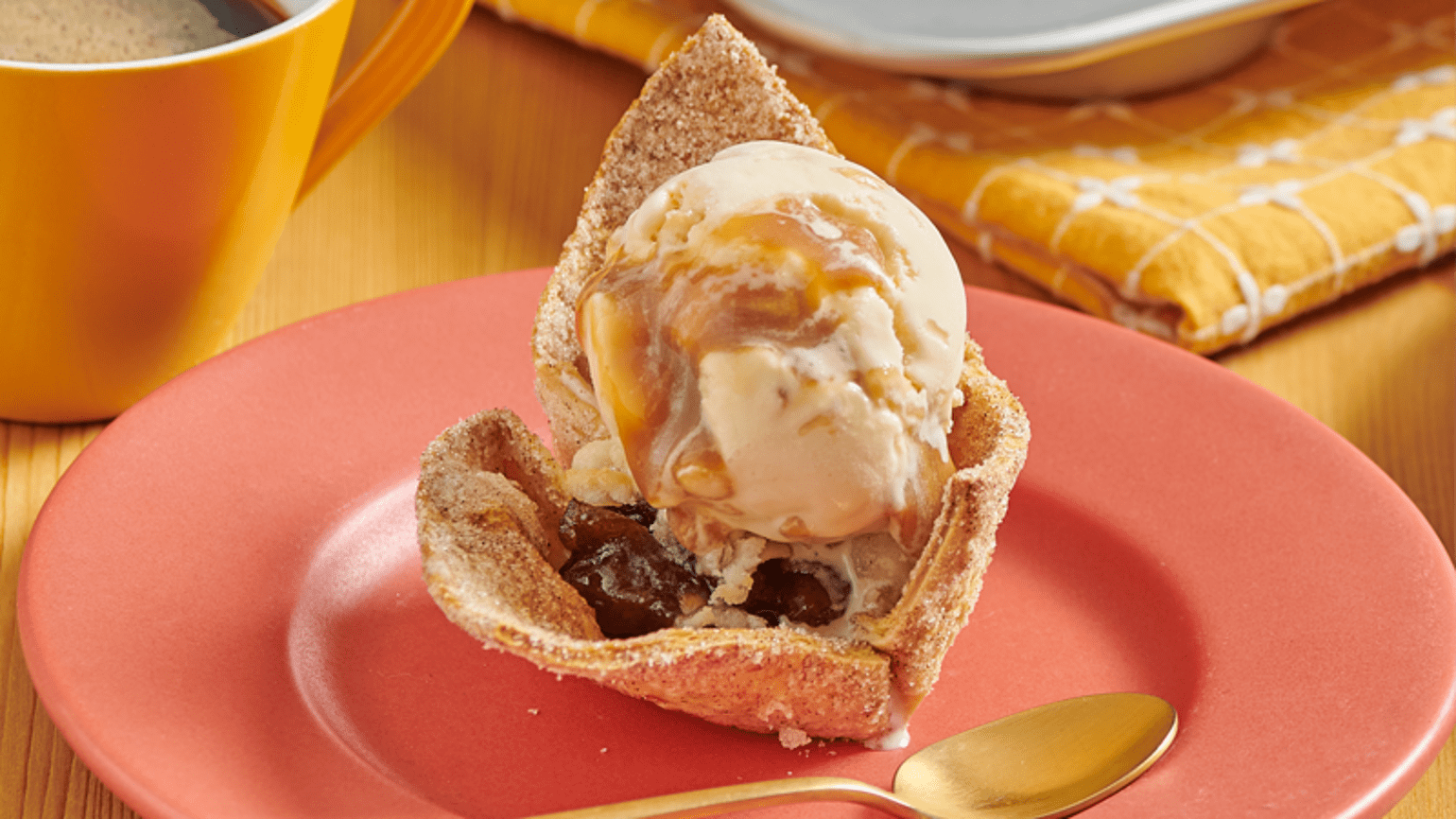 Mince Pies with Häagen-Dazs™ Ice Cream
Try a twist on the traditional mince pie with these sweet baked tortilla versions and add extra indulgence by serving with a scoop of your favourite Häagen-Dazs™ ice cream!
Ingredient List
30g caster sugar
1 teaspoon ground cinnamon
3 Old El Paso™ Large Flour Tortillas
25g butter, melted and cooled slightly
75g marzipan, coarsely grated
1 x 460ml tub Häagen-Dazs™ Salted
Caramel Ice Cream
Preparation
Preheat the oven to 200°C (180°C for fan assisted ovens), gas mark 6. Mix the sugar and cinnamon together on a large plate.
Brush both sides of each tortilla with melted butter then cut each tortilla into quarters. Dip one side of each quarter in the cinnamon sugar to coat then press, sugared-side up, into one hole of a 12-hole muffin tray.
Bake for 3-4 minutes until the tortilla edges are just turning golden. Remove the muffin tray from the oven. Divide the mincemeat (1 tablespoon each) between the semi-baked tortilla cups then divide the marzpain over the top of the mincemeat. Sprinkle over any remaining cinnamon sugar.
Bake for a further 4-6 minutes until the mincemeat is bubbling and the tortillas cups are crisp and golden brown.
Leave in the muffin tray for 10 minutes. Serve warm or cold topped with a scoop of salted caramel ice cream. Store in an airtight container and eat within 2 days.
Expert Tips
Instead of the marzipan you could sprinkle over some chopped nuts or crumbled amaretti biscuits for extra crunch.
If the tortillas have puffed up a little after the first few minutes baking push them back down with the back of a teaspoon before adding the mincemeat.