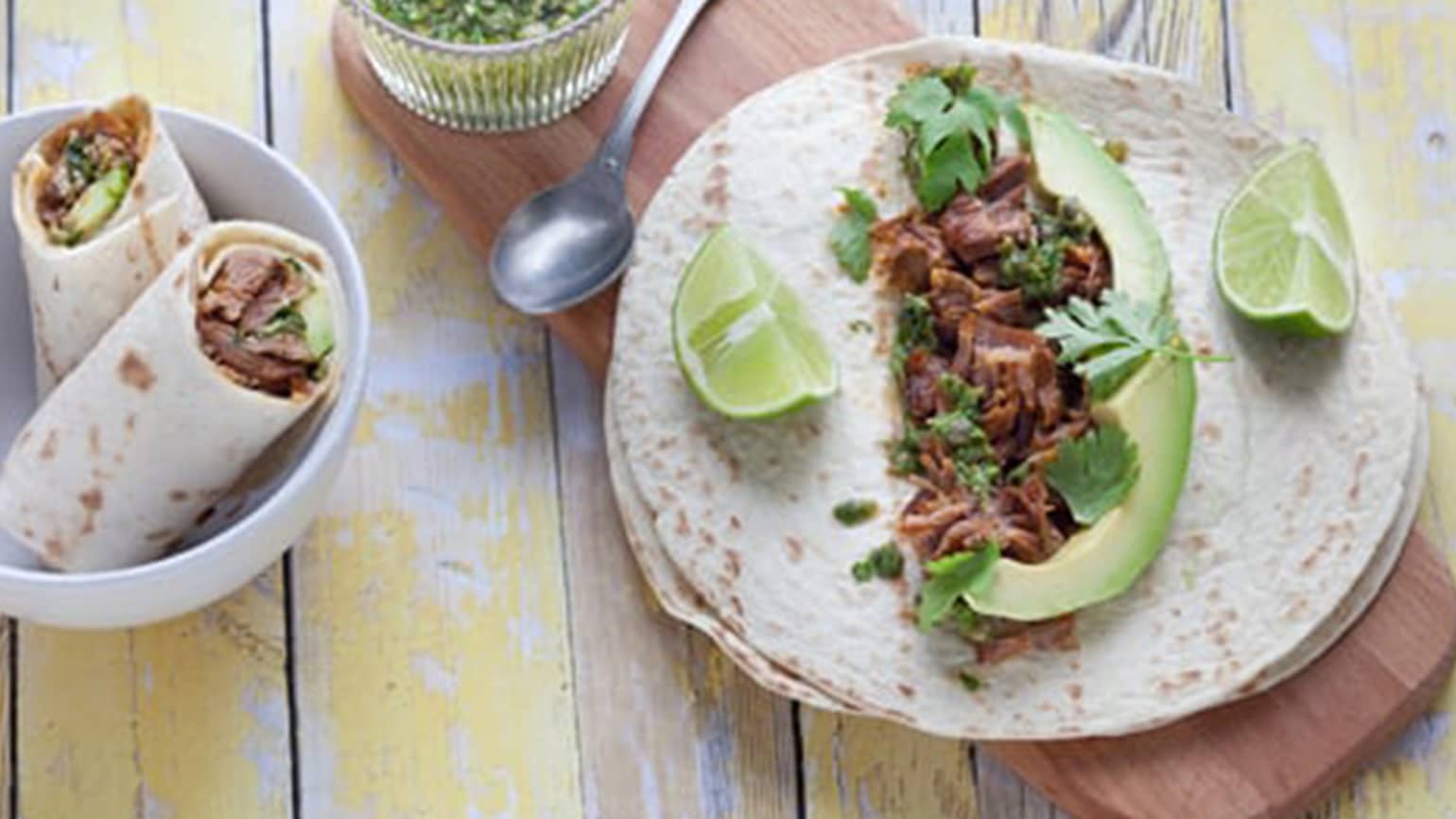 Roasted Pork Burritos, With Avocado and Salsa Verde
Roasted pork burritos, with avocado and salsa verde. Pork based Mexican recipe for four people.
Total Time
3 Hours
5 Minutes
Ingredient List
2 packets of Old El Paso™ Plain Wheat Tortillas
1 packet of Old El Paso ™ Chili Spice Mix
1 kg of roasted pork loin
2 tablespoons of olive oil
4 cloves of garlic
2 avocados
1 lime
For the salsa verde:
3 tablespoons of olive oil
1 garlic clove, minced
1 bunch of chopped parsley
1/2 bunch of chopped mint
1/2 bunch of fresh coriander
10 small pickles, thinly sliced
1 tablespoon minced capers
1 teaspoon of mustard
1 tablespoon of wine vinegar
Salt
Pepper
Preparation
Preheat the oven to 140 ° C. Cut the pork into 5 cm pieces and place them in a large baking dish. Cover the pieces with 1 glass of cold water. Add the garlic cloves to the dish and sprinkle with Old El Paso ™ Chili Spice Blend ™, salt and pepper. Cover the pan with lid or cover with foil and bake for about 2.5 / 3 hours, until the meat falls apart easily with a fork.
Place all of the salsa verde ingredients in a bowl and mix them together. Set aside in the fridge. Place the pork and garlic in a bowl, mash them with a fork and add a little cooking juice. Adjust the seasoning. Set aside.
Peel the avocados and cut them into slices, sprinkle them with the lime juice.
Take the Old El Paso™ Plain Wheat Tortillas out of the plastic bag and wrap them in aluminum foil. Place them in the preheated oven to 180°C and heat for 10 minutes.
Place all the ingredients in the middle of the table. Let each guest garnish their tortillas with pork, avocado and salsa verde. Roll up and enjoy.
Expert Tips
You can mix the ingredients of the salsa verde in a food processor for a more liquid result.