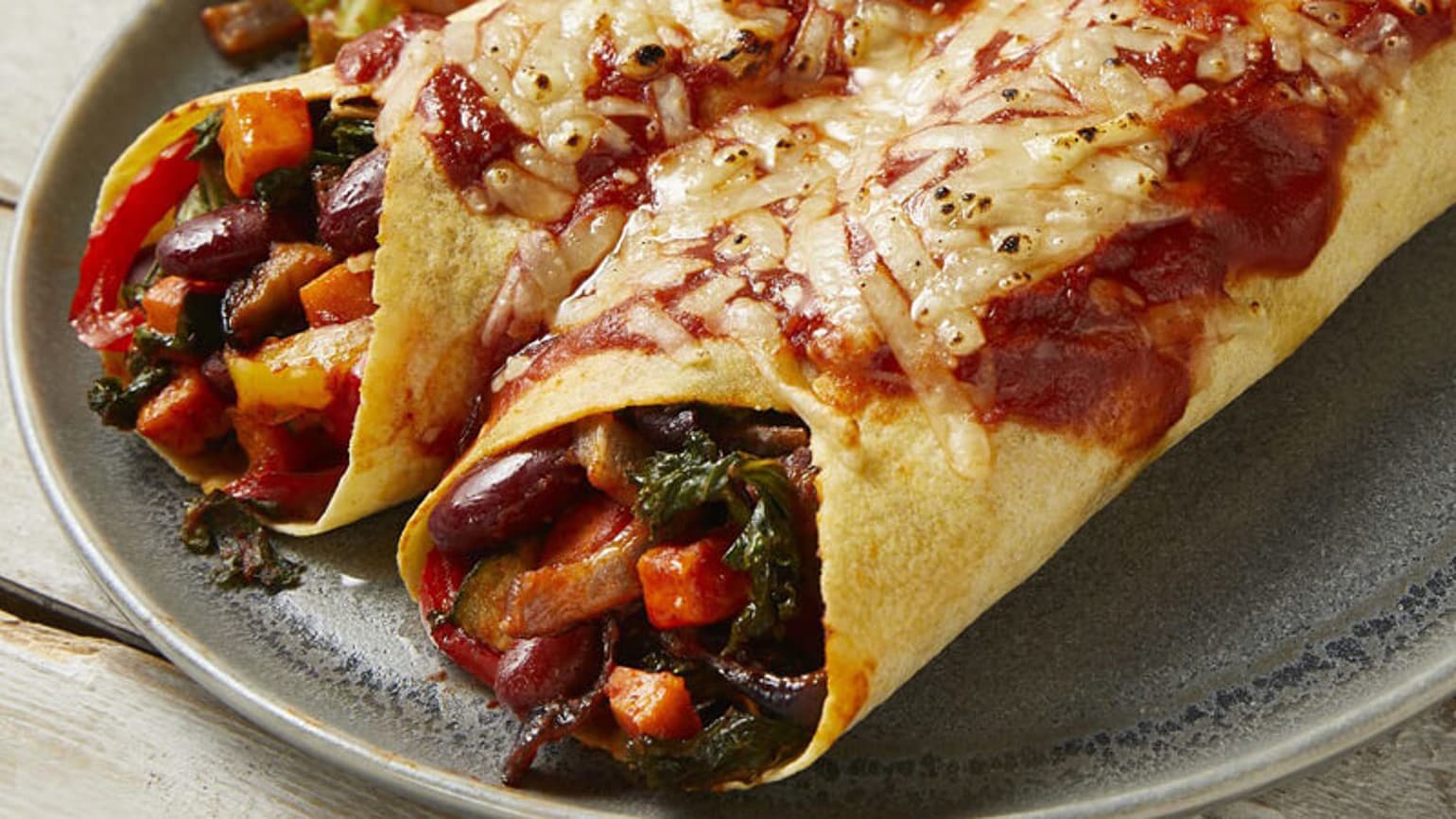 Roasted Vegetable Enchiladas
Roast the vegetables you have leftover in your fridge and use them to pack these flavourful enchiladas, topped with sauce and cheese, for a delicious Mexican dinner.
Ingredient List
1 Old El Paso™ Cheesy Baked Enchilada Kit
2 tbsp vegetable oil, plus extra for greasing (25g)
150ml water
1 x 210g can or 1/2 x 400g can red kidney beans, drained and rinsed (130g)
80g kale, hard stalks removed
40g reduced fat mature cheddar, finely grated
About 600g mixed vegetables for roasting, e.g:
1 small red onion, thinly sliced (60g)
1 small courgette, thinly sliced (100g)
1 red or yellow pepper, thinly sliced (160g)
1 small sweet potato, cut into 1cm pieces (150g)
half an aubergine, diced (130g)
Preparation
Preheat oven to 220°C (Fan 180°C; gas mark 7).
Prepare the vegetables and toss in 1 tbsp vegetable oil; place in a single layer on a baking tray and cook for 30 minutes. Remove from the oven and reduce to 180°C (fan 160°C; gas mark 4).
Mix the seasoning from the meal kit with 150ml hot water and both pouches of cooking sauce.
Heat 1 tbsp oil in a large pan, add the kale and cook for a few minutes until wilted. Add the kidney beans and half of the cooking sauce mixture, bring to the boil and simmer for a few minutes. Stir in the roasted vegetables.
Warm the tortillas according to the pack instructions, and grease an ovenproof dish.
Place a large spoonful of the vegetable mixture onto the centre of each tortilla, roll and place in the dish.
Spoon over the remaining cooking sauce mixture finely and sprinkle with finely grated cheese.
Bake for 10 minutes or until golden.
Expert Tips
This recipe is great for reducing food waste – try using other vegetables that you have in the fridge e.g. baby spinach, mushrooms, or leftover roasted vegetables.
Cook some extra roasted vegetables and enjoy the next day as roasted vegetable and hummus wraps.
Try with any other cheese that you have, e.g. 40g grated hard cheese or ½ pack (65g) thinly sliced reduced fat soft mozzarella.
Serve with mixed salad leaves, smashed avocado or homemade slaw made with shredded red cabbage, carrots & onion.