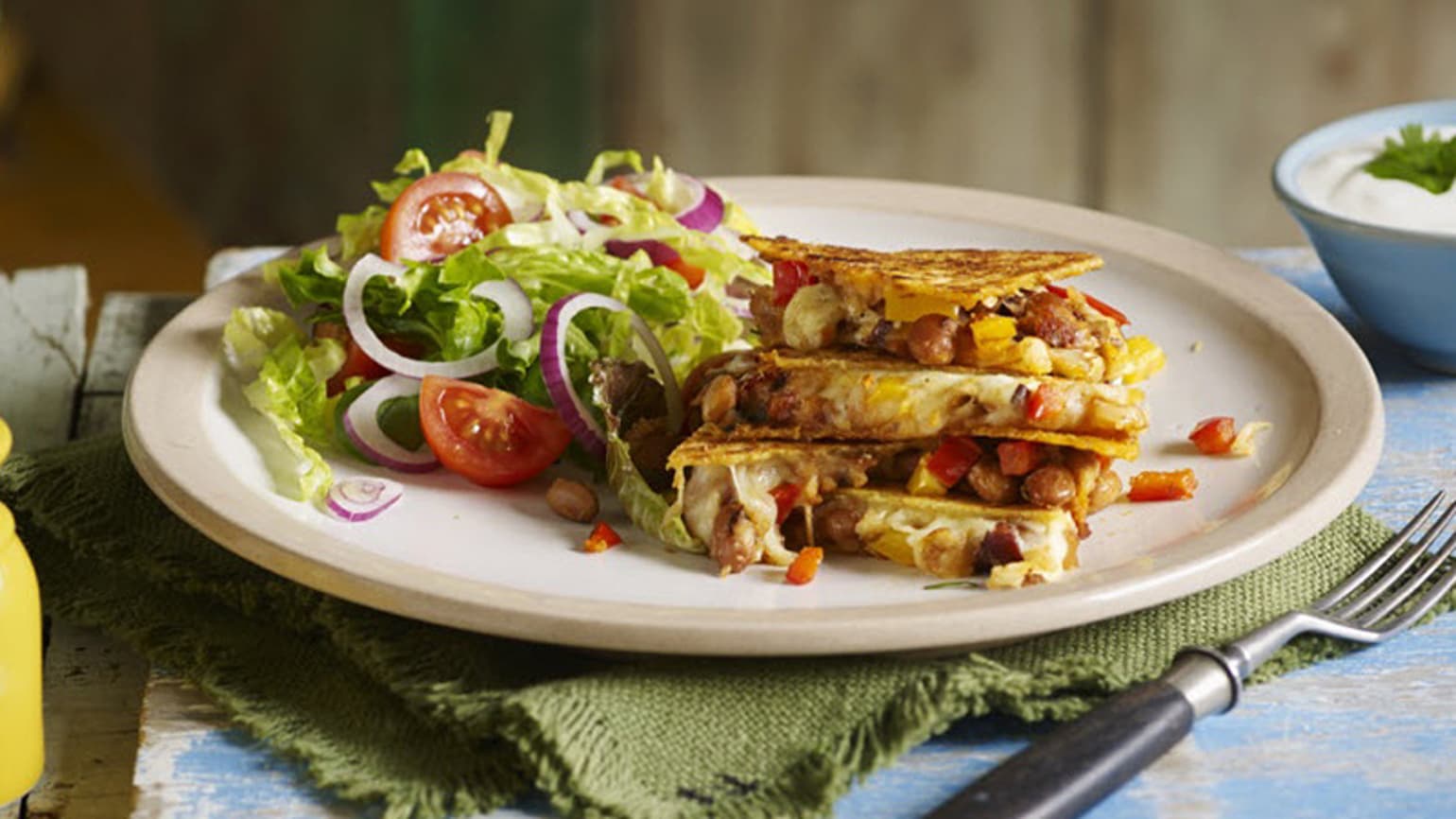 Vegetarian Quesadillas
Spicy mixed beans with vibrant red and yellow peppers sandwiched between two toasty corn tortillas, oozing with melted cheese
Ingredient List
1 Old El Paso™ Quesadilla Dinner Kit or Old El Paso Flour Tortillas, Taco Seasoning Mix and Chunky Salsa Mild
150 grated cheese
2 cans of mixed beans, drained
1 red pepper, deseeded and chopped
1 orange or yellow pepper, deseeded and chopped
2 tbsp of corn oil
A handful of chopped coriander
A few lugs of oil for brushing
Preparation
Heat a few lugs of oil in a griddle pan and fry the crunchy peppers for 2-3 minutes. Chuck in the beans, 100 ml water and sprinkle over the Quesadilla Spice Mix or Taco Seasoning Mix. Simmer for 2-3 minutes, and then stir in the coriander.
Brush a large frying pan with a little oil. Add a corn tortilla and pile on some tangy tomato salsa. Spoon over a quarter of the spicy mixed beans and the freshly grated cheese, Place another corn tortilla on top and cook over a moderate heat for 2-3 minutes. Press down with a spatula until the hot cheese starts to melt.
Repeat with the rest of the corn tortillas stacking them high with plenty of tangy salsa and piles of grated cheese.
Slice the spicy quesadilla into wedges and let everyone tuck in.
Expert Tips
Why not try swapping in an Old El Paso Whole Wheat Tortilla, reduced-fat cheese and adding more vegetables!