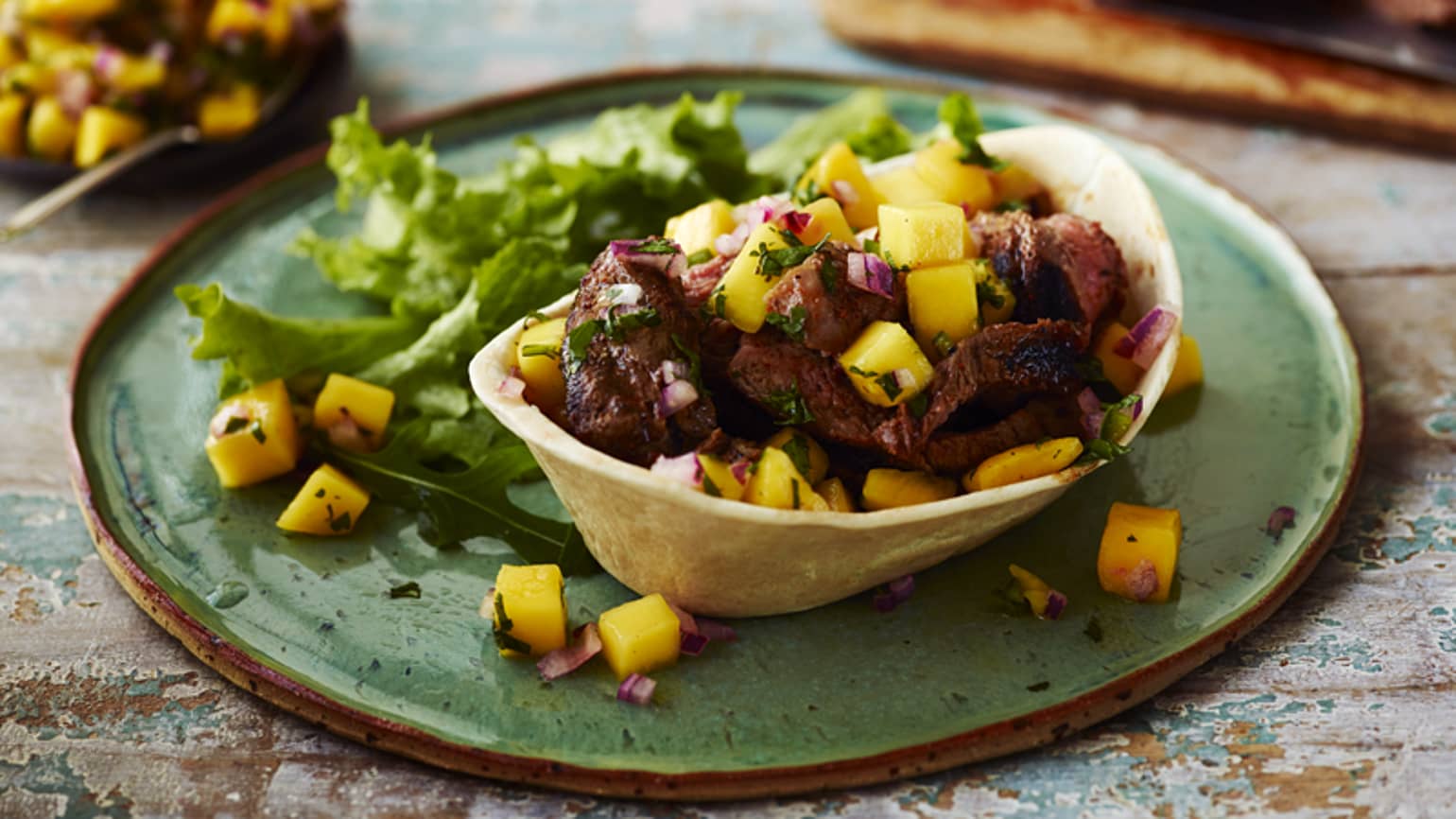 Steak Taco with Mango Salsa
For a real treat, try these delicious steak tacos with a vibrant mango salsa!
Ingredient List
Mango Salsa
2 ripe mango, peeled, stone removed and diced
Juice 1 lime
1 green chilli, deseeded and finely chopped
1/2 red onion, finely chopped
1 tablespoon chopped fresh coriander
Tacos
1 pack Old El Paso™ Garlic & Paprika Seasoning Mix for Tacos
3 x 225g rib-eye steaks (each at least 1.5cm thick)
1 pack Old El Paso™ Stand 'N' Stuff Soft Flour Tortillas
Preparation
Mix the salsa ingredients in a small bowl and cover and set aside.
Sprinkle the seasoning mix over both sides of each steak, pressing to coat.
Heat a large cast-iron griddle pan over a very high heat. Cook the steaks in the hot pan for 3-4 minutes on each side until charred and cooked to your liking. Transfer to a warmed plate and leave to rest for 5 minutes. Warm the flour tortillas as directed on the packaging.
Transfer the steak to a chopping board and thinly slice. Divide the steak slices between the warmed tortillas. Top with the salsa and serve.
Expert Tips
You can use a drained tin of sliced mangoes for the salsa instead of fresh, if preferred.
For a budget recipe replace the rib-eye steak with thin flash-fry steaks and cook for 1-2 minutes until seared. Rest for 5 minutes then cut into strips.
Serve with a side of salad.