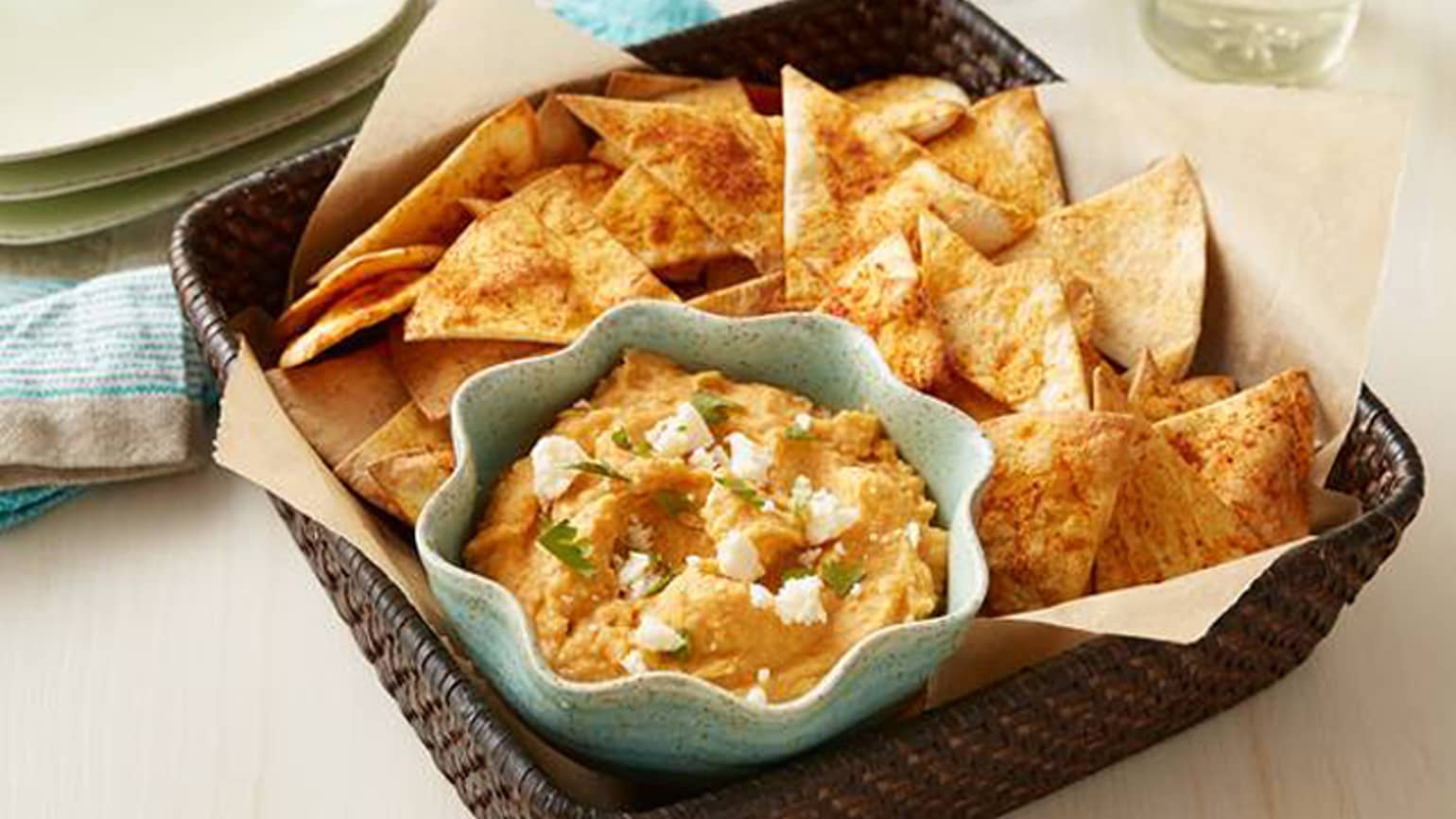 Taco Hummus And Tortilla Chips
A quick and easy veggie chick pea dip made extra-special served with homemade tortilla chips.
Ingredient List
Tortilla Chips
4 Old El Paso™ Regular Flour Tortillas
2 teaspoons water
1 1/2 tablespoons Old El Paso™ Garlic & Paprika Seasoning Mix for Tacos
Taco Hummus
1 tin (400g) chick peas, drained, reserving 5 tablespoons of the liquid
1 tablespoon lemon juice
2 teaspoons olive oil
1 clove garlic, crushed
To Serve
Chopped fresh coriander
Crumbled feta cheese, optional
Preparation
Preheat the oven to 200°C (180°C for fan assisted ovens), gas mark 6. Lightly grease a large baking sheet.
Brush both sides of all the tortillas lightly with the water then sprinkle half the taco seasoning over both sides. Cut each tortilla into 6 wedges and place on the baking sheet. Bake for 8-9 minutes, turning once, or until light golden brown. Transfer to a wire rack and leave to cool completely.
Meanwhile, to make the hummus place the drained chick peas in a blender or food processor with the lemon juice, oil, garlic and remaining taco seasoning mix. Blend or process to a course paste, then add 4-6 tablespoons of the reserved chickpea liquid and process again until you have the desired consistency.
Transfer the hummus to a serving bowl and garnish with the coriander and crumbled feta cheese, if liked. Serve with the tortilla chips.
Expert Tips
Store the tortilla chips in an airtight container for 1-2 days. The dip will keep, covered in the refrigerator for 2-3 days.
For a hot and spicy hummus, add 1 tablespoon drained and finely chopped Old El Paso™ Sliced Red Jalapeños to the blender or food processor.