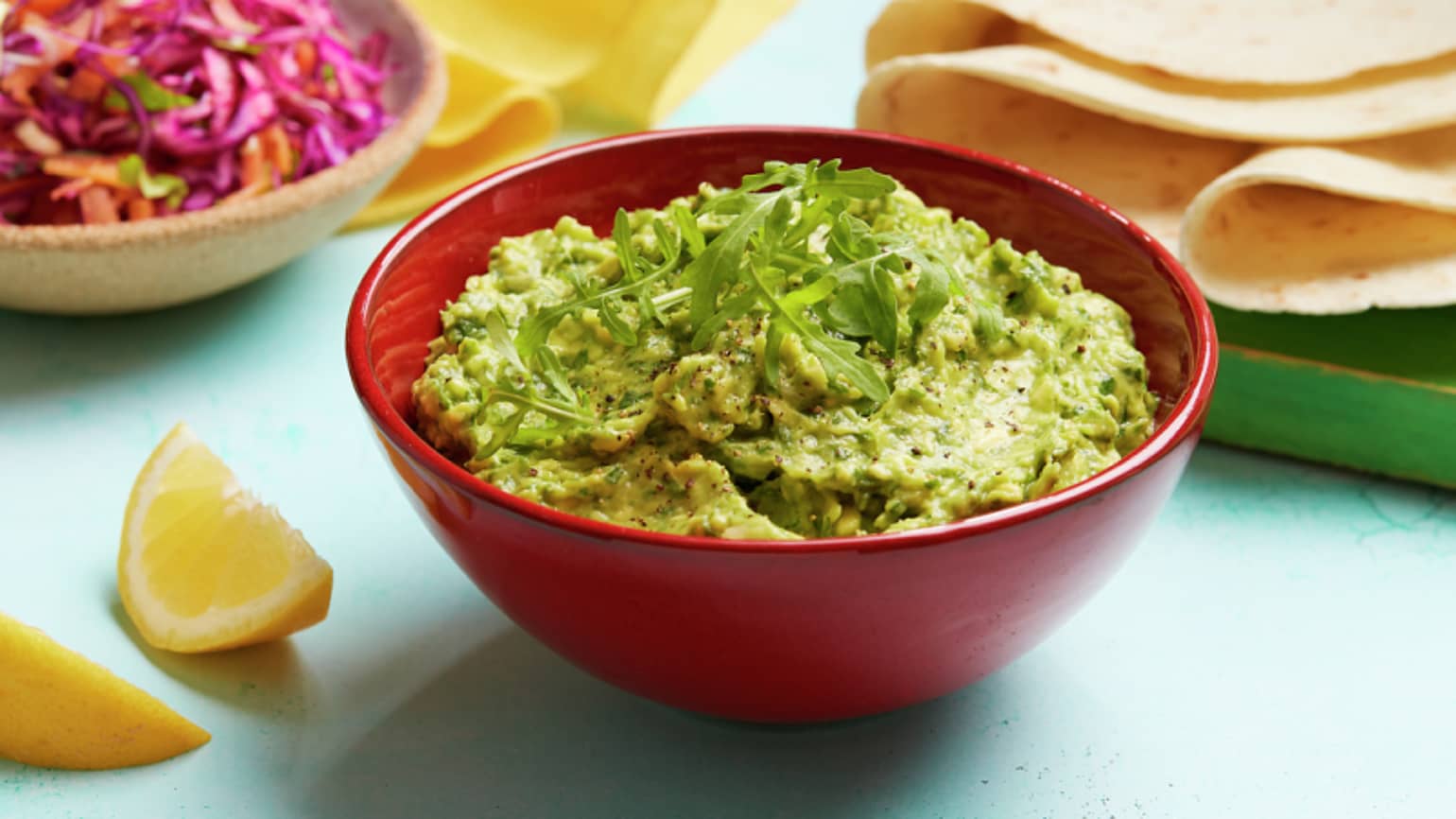 Tangy Lemon & Rocket Guacamole
Add a touch of sophistication to your guacamole with tangy lemon juice and peppery rocket leaves.
Total Time
1 Hours
20 Minutes
Ingredient List
50g rocket, plus extra to garnish
1 garlic clove, chopped
3 spring onions, trimmed and chopped
3 tablespoons lemon juice
3 ripe avocados, peeled, stones removed and flesh chopped
2 tablespoons freshly chopped flat-leaf parsley
1/4 teaspoon salt
Preparation
Place the rocket, garlic, spring onion, lemon juice, avocado and parsley in a food processor and pulse until almost smooth, scraping down the sides of the bowl as needed. Transfer to a serving bowl and stir in the salt. Season with freshly ground black pepper, if you like.
Cover the surface closely with cling film and refrigerate for 1 hour to allow the flavours to blend. Garnish with the extra rocket and some freshly ground black pepper and serve.
Expert Tips
Watercress can be used in place of rocket, if you like, as it has a similar peppery flavour. Or try a mix of both.
For a more pronounced lemon flavour add 1 teaspoon finely grated lemon zest or 50g drained and chopped preserved lemon.
Don't just dip! Make a delicious pasta salad by stirring a few spoonfuls of the guac into cold cooked gluten-free penne pasta along with an extra squeeze of lemon juice. Add flaked poached salmon fillet and cooked peeled prawns, if you like.
Cooking Gluten Free? Always read labels to make sure each recipe ingredient is gluten free. Products and ingredient sources can change.