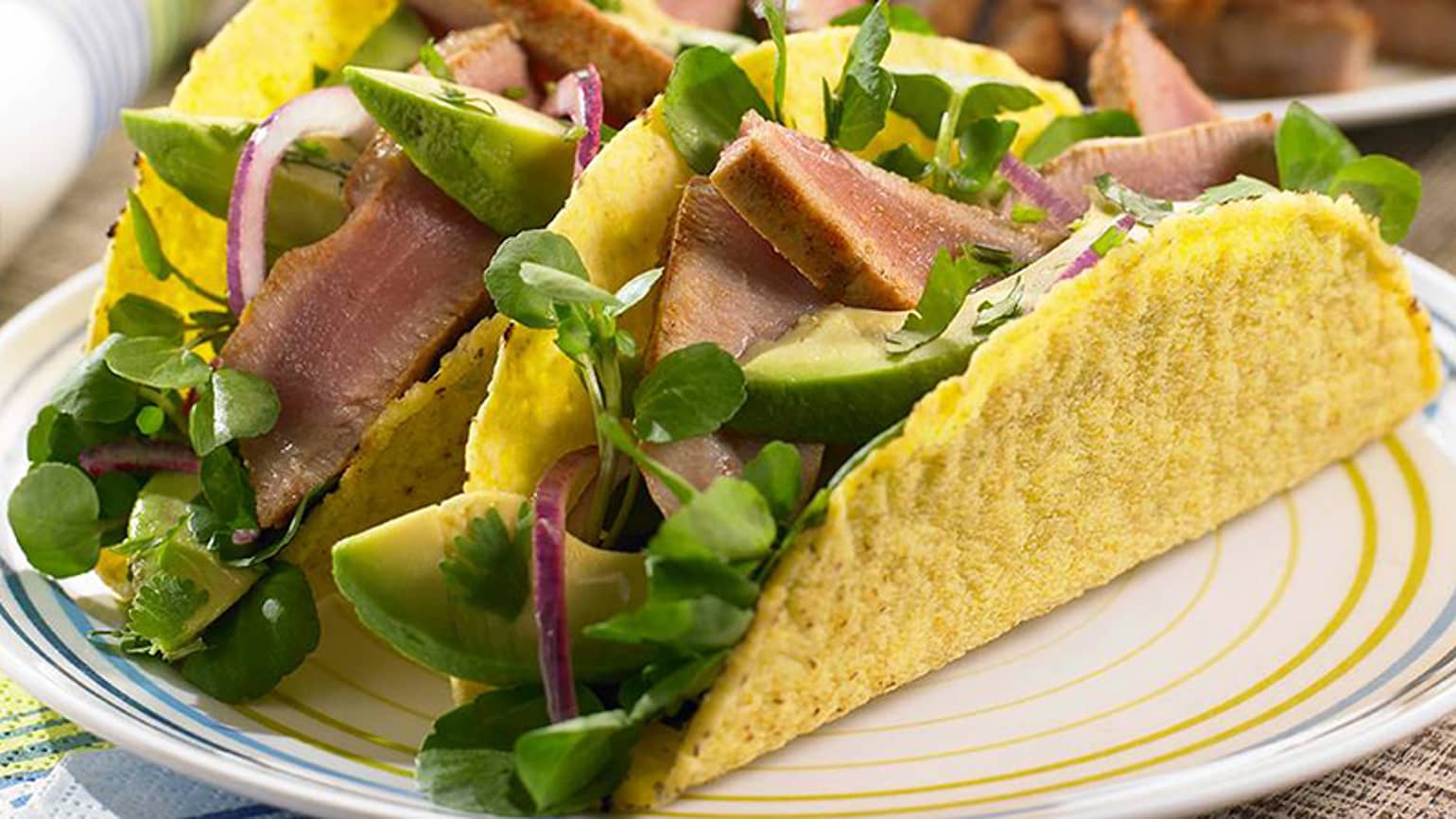 Tuna Taco Salad
Warm crunchy tortilla shells stuffed with grilled tuna, creamy avocado and sweet red onion.
Ingredient List
1 Old El Paso™ Stand 'N' Stuff Taco Dinner Kit
4 150 gtuna steaks, cut into small strips
75 gbag watercress
2 ripe avocados, peeled, stoned and sliced
1 smallred onion, thinly sliced
2 fresh limes, juiced, zest and grated
1 tbsp corn or vegetable oil
A fistful of chopped coriander
Lots of zesty lime wedges for the side
Preparation
Grab a shallow non-metallic dish, and sprinkle in the Taco Spice Mix, with the oil, lime zest and juice. Toss in the tuna and coat in the mixture. Leave to marinate for 15-20 minutes.
Fire up a griddle pan or barbecue to a medium heat and sizzle the tuna steaks, 1-2 minutes each side for rare or 2-3 minutes each side for well done, brushing them with any remaining marinade. Leave them sit for 2 minutes and then thinly slice.
Meanwhile chuck the avocado slices, onion, coriander and lime juice in a bowl and mix.
Warm the twice cooked crunchy tortilla Shells from the instructions on the box then dish it all up.
Get the whole street together for a Mexican feast. Take a taco Shell and layer it up with some watercress, avocado, red onion mixture and tuna strips. Top with the tangy Original Salsa and a squeeze of lime.