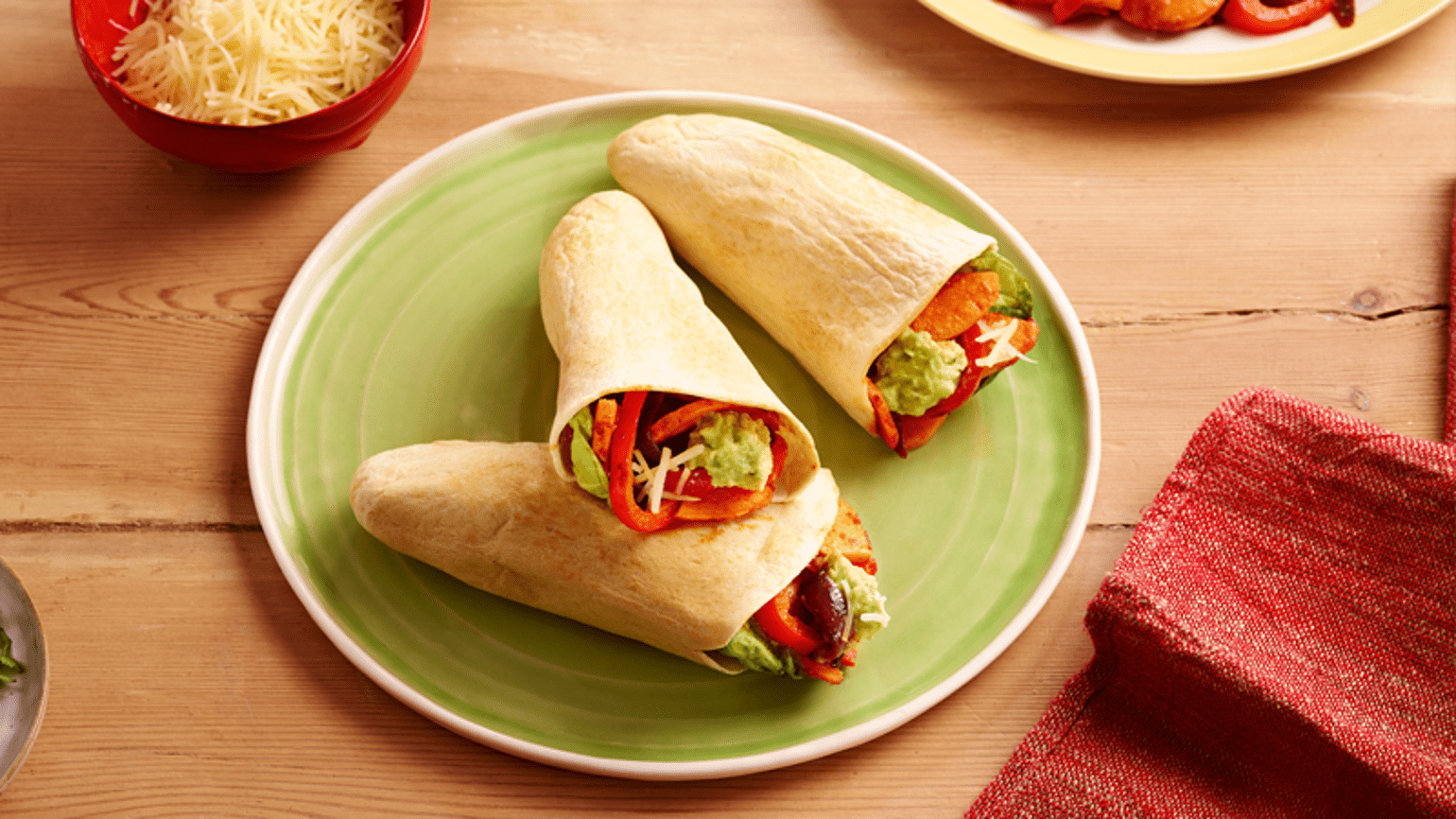 Vegetarian Sweet Potato & Cheese Pockets
These flavour-packed pockets can be made on the spot or a day ahead!
Ingredient List
1 pack Old El Paso™ Tortilla Pockets™
1 sachet Old El Paso™ Garlic and Paprika Seasoning Mix for Tacos
1 tablespoon olive oil
1 sweet potato (about 300g), peeled and cut into thin slices
1 red onion, sliced
2 red peppers, deseeded and sliced
2 ripe avocados, peeled, stones removed and mashed
Juice of 1 lime
8 little gem lettuce leaves
1 tablespoon freshly chopped coriander
100g Cheddar cheese, grated
Preparation
Heat the oil in a large frying pan over a medium-high heat and cook the sweet potato slices, onion and peppers for 5 minutes, stirring frequently. Reduce the heat to low, then add 2 tablespoons of water. Cover and continue to cook for 10-15 minutes, stirring every so often, until tender. Stir in the seasoning mix and cook for a further minute, adding an extra splash of water, if needed.
Heat the pockets to pack instructions. Mix the avocado with the lime juice and season to taste.
Serve warmed pockets with the sweet potato and pepper mixture, lettuce leaves, mashed avocado, coriander and cheese in separate bowls, and let everyone fill their own pockets their own way.
Expert Tips
Replace the Cheddar with grated mozzarella or Emmental or crumbled feta.
Butternut squash could be interchanged with the sweet potato.
PREP AHEAD – Cool the filling after cooking and stuff the tortilla pockets. Wrap in clingfilm and keep for lunch.
Cooking Vegetarian? Always read labels to make sure each recipe ingredient is vegetarian. Products and ingredient sources can change.