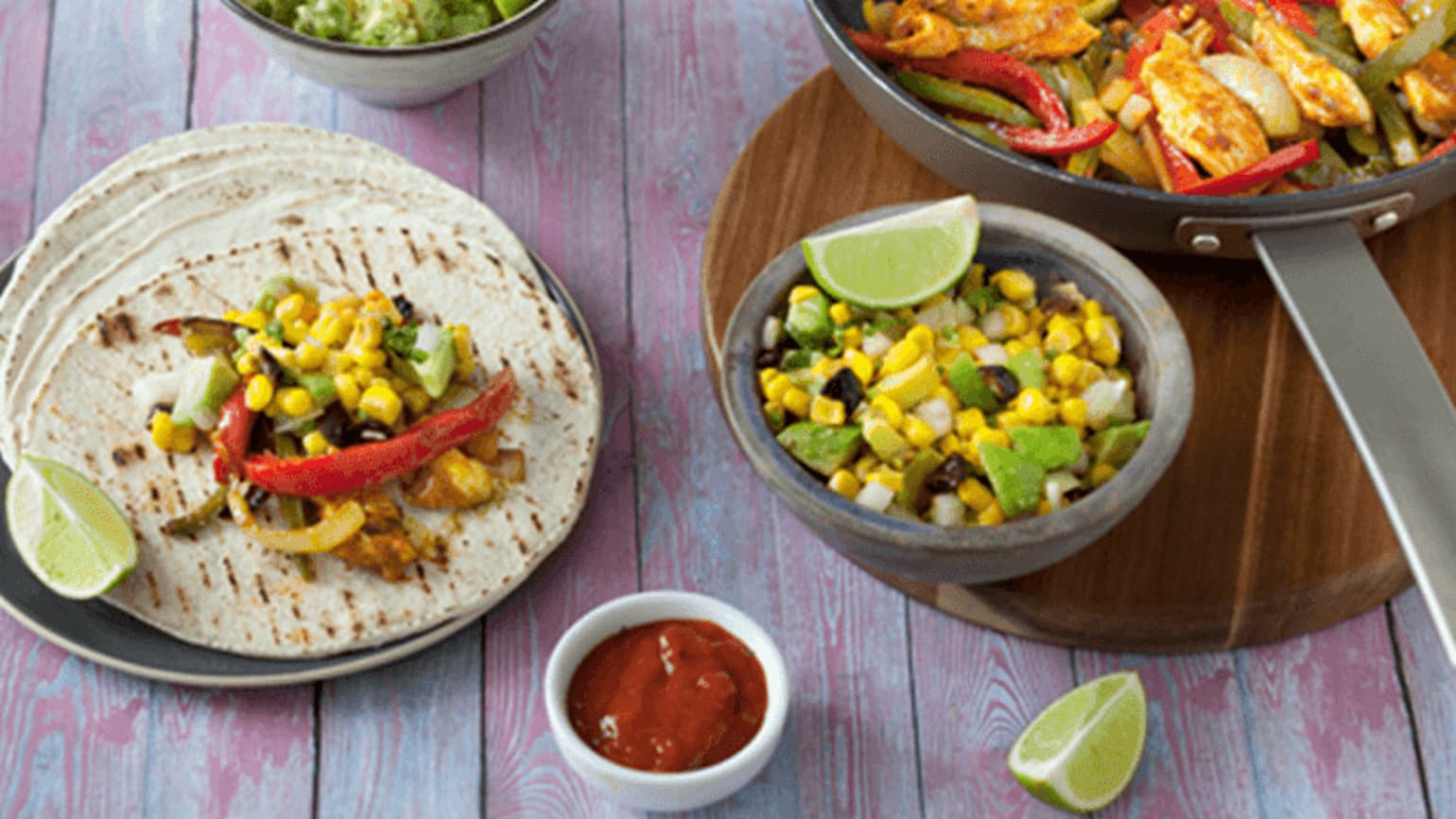 Classic Gluten Free Chicken Fajitas
Making gluten free chicken fajitas has never been easier with our classic recipe at Old El Paso. Simply use our Gluten Free Smoky BBQ Fajita Kit and add tender chicken, crunchy peppers and tasty onions. Top things off with our delicious corn, avocado and coriander salsa to make a mouthwatering gluten free Mexican meal for the whole family to enjoy.
Ingredient List
1 Gluten Free Smoky BBQ Fajita Kit
500g chicken fillets
1 red pepper
1 green pepper
1 onion
1 can of corn
1 avocado
3 spring onions
Black olives
1/2 lime
coriander
Green chilli (optional)
Preparation
To make these delicious gluten free chicken fajitas, cut the chicken, onion and peppers into strips. Heat a little oil in a frying pan and sizzle the chicken over medium/high heat until thoroughly cooked. Add the onion and peppers and sizzle for a further 5-10 minutes. Add the Gluten Free Seasoning Mix and sizzle until the chicken is brown and the veggies are crunchy.
Peel the avocado and cut it into cubes. In a mixing bowl, add the avocado, corn and the juice of half a lime. Chop the spring onions, coriander and chilli. Add the olives, spring onions, coriander and chilli in the mixing bowl. Mix and put aside.
Heat the gluten free tortillas:
Microwave: Pierce the pack and place it in the microwave. Heat for 35 seconds on full power (800 watts). Open the pack and separate tortillas.
Pan: Heat a pan and toast the tortillas for 5 seconds on both sides. Wrap in a tea towel to steam.
Serve the chicken, tortillas, peppers, and salsa on the table for everyone to make their own gluten free chicken fajitas!
Expert Tips
You can add grated cheddar cheese, black beans, lettuce or some creamy guacamole to take your chicken fajitas to the next level!