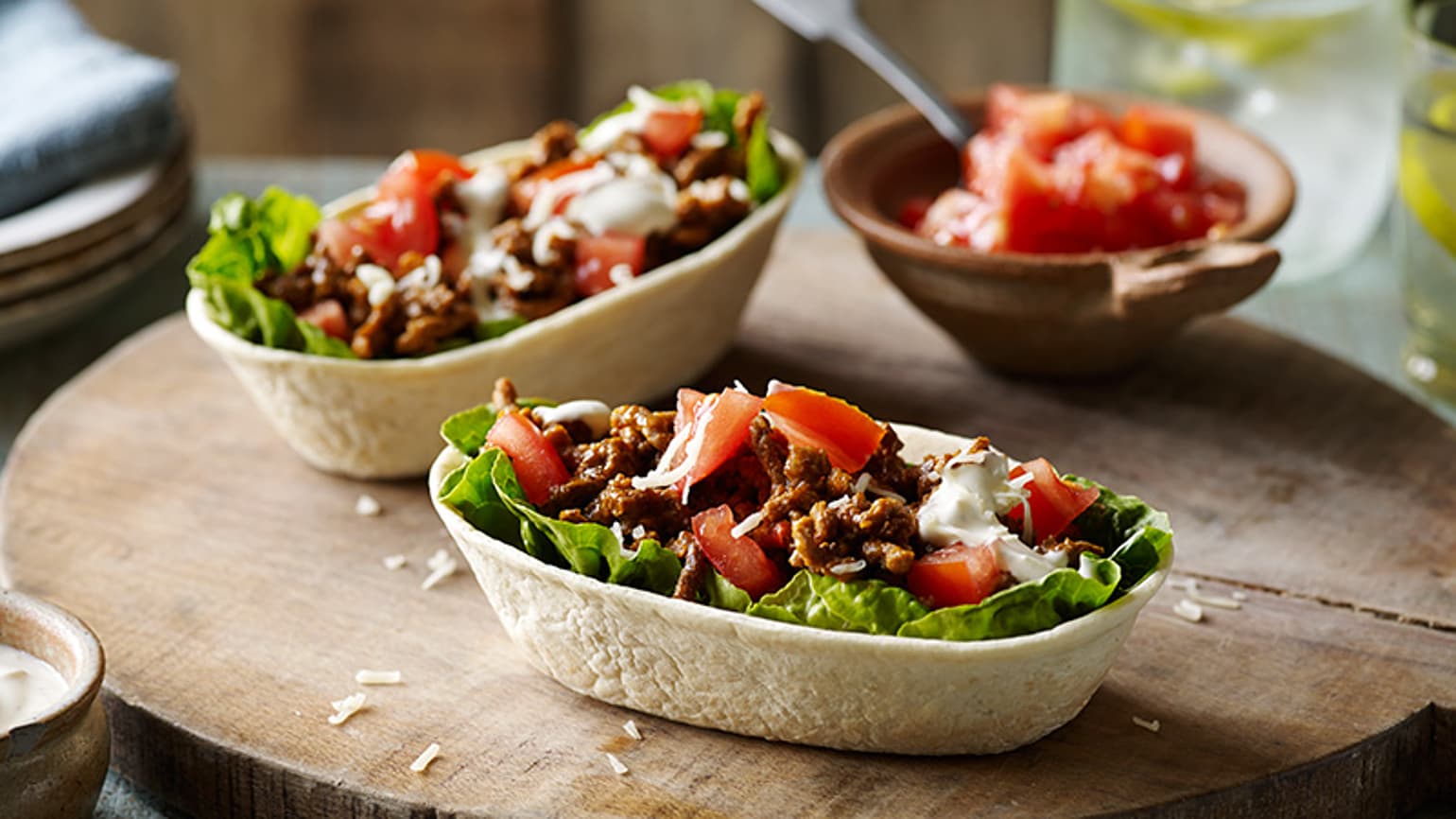 Extra Mild Super Tasty Stand 'N' Stuff™ Beef Soft Tacos
Enjoy delicious Mexican food with this Extra Mild Super Tasty Stand 'N' Stuff™ Beef Soft Tacos recipe from Old El Paso, perfect for the whole family.
Ingredient List
1 Old El Paso ™ Extra Mild Super Tasty Stand 'N' Stuff Soft Tacos Kit
500 g minced beef
1 lettuce
2 tomatoes
100 ml soured cream
100 g grated cheese
Preparation
Prepare your Toppings
Dice your tomatoes and place into one bowl and mix the Cool Herb Topping Mix with 100ml soured cream in another. Next shred your lettuce and place into a third bowl. Keep all three in the fridge until needed.
Sizzle your Filling
In a hot pan, add a splash of oil and start browning your 500 g of minced beef. Then drain off any excess liquid. Reduce the heat, add the Extra Mild Super Tasty Tomato Stir-In Sauce and stir well for 2 minutes. Add half of the grated cheese (50 g), stirring until the cheese has melted.
Warm It Up
Take the tortillas out of their packaging – it is important not to oven heat or microwave the soft tortilla shells in the plastic packaging. To heat in the microwave, put them on a microwaveable plate, on full power, for 30 seconds. To oven heat, pre-heat the over to 165⁰C (same for fan assisted ovens) / gas mark 3 and wrap the tortilla shells in foil before placing on a baking tray in the oven for 7-9 minutes.
Stand, Fill & Top
Fill your Stand 'N' Stuff™ Soft Flour Tortillas with your freshly cooked meaty filling and top with your freshly diced tomatoes, shredded lettuce, your Cool Herb Topping Mix and remaining grated cheese – then get stuck in!