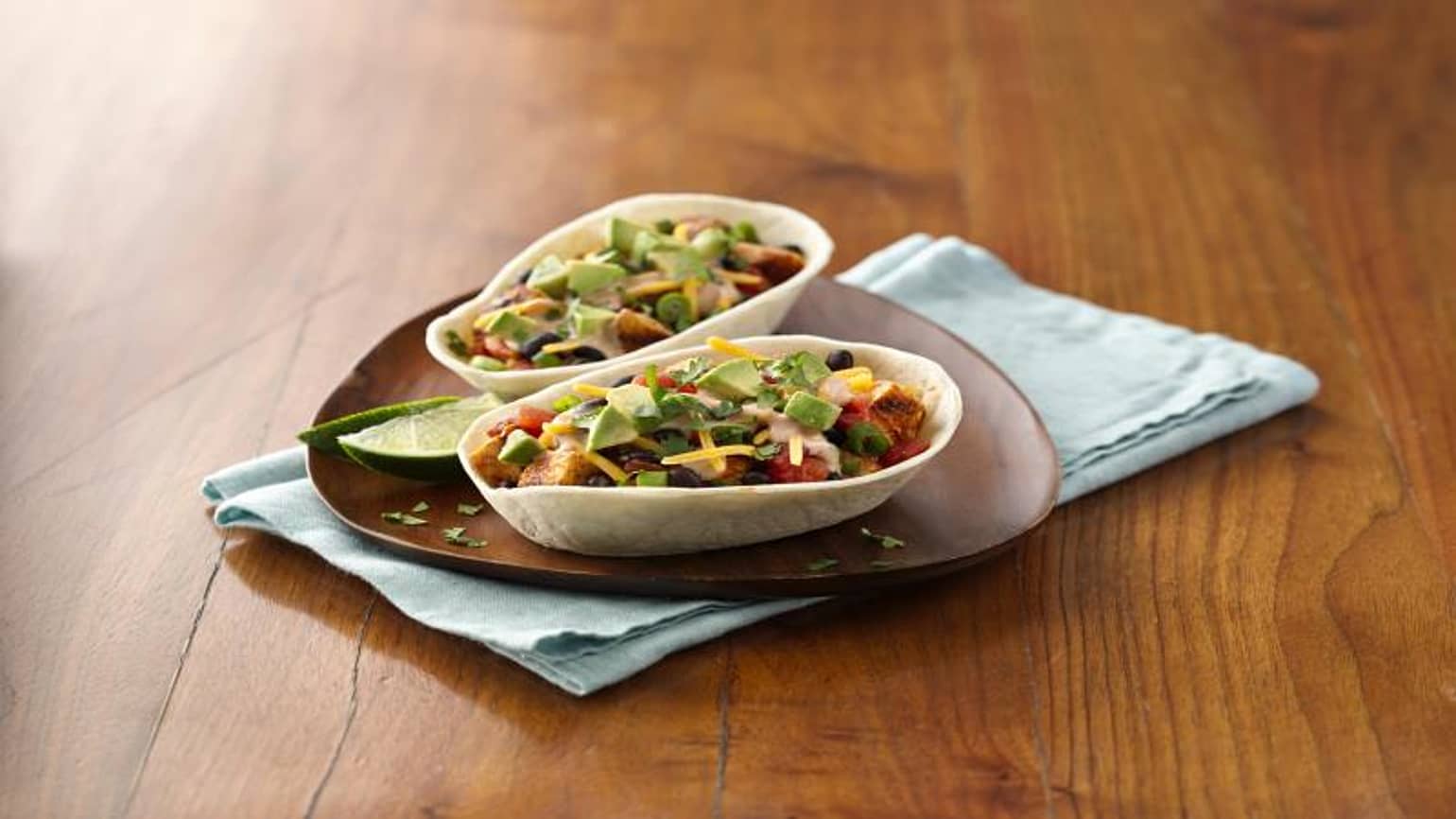 Grilled Chicken Stand 'N' Stuff™ Tacos
These easy weeknight grilled chicken tacos with black bean salsa and zipped-up ranch dressing can feed your family fast!
Ingredient List
300 mlOld El Paso™ Thick and Chunky Salsa
1 can (400 g)Old El Paso™ Black Beans, drained, rinsed
2 medium spring onions, thinly sliced
1 Old El Paso™ Garlic & Paprika Stand 'N' Stuff Soft Taco Kit
50 ml ranch dressing
15 ml vegetable oil
625 g boneless skinless chicken breast fillets
50 g cheddar cheese, shredded
1 medium avocado, pitted, peeled and cubed
30 ml chopped fresh coriander
Lime wedges, if desired
Preparation
Warm up your barbeque. In medium bowl, stir tomatoes, black beans and green onions and set aside. In small bowl, stir 50 ml of the taco sauce (from dinner kit) and ranch dressing until well blended; set aside.
Brush oil on chicken breasts; sprinkle with 30 ml of the seasoning mix (from dinner kit), and coat on all sides. Place chicken on the barbeque. Cover the barbeque and cook 12 to 15 minutes, turning occasionally, until juice of chicken is clear when center of thickest part is cut (74°C). Brush chicken with remaining taco sauce (from dinner kit) during last 2 minutes of cooking. Remove from barbeque, and cut into cubes.
Meanwhile, heat tortillas (from dinner kit) as directed on package. To serve, spoon grilled chicken and tomato mixture into tortillas. Top with cheese, taco ranch dressing, avocado and cilantro. Garnish with lime.
Expert Tips
You can substitute pinto or kidney beans for black beans in this recipe.
Save remaining seasoning mix for another use.