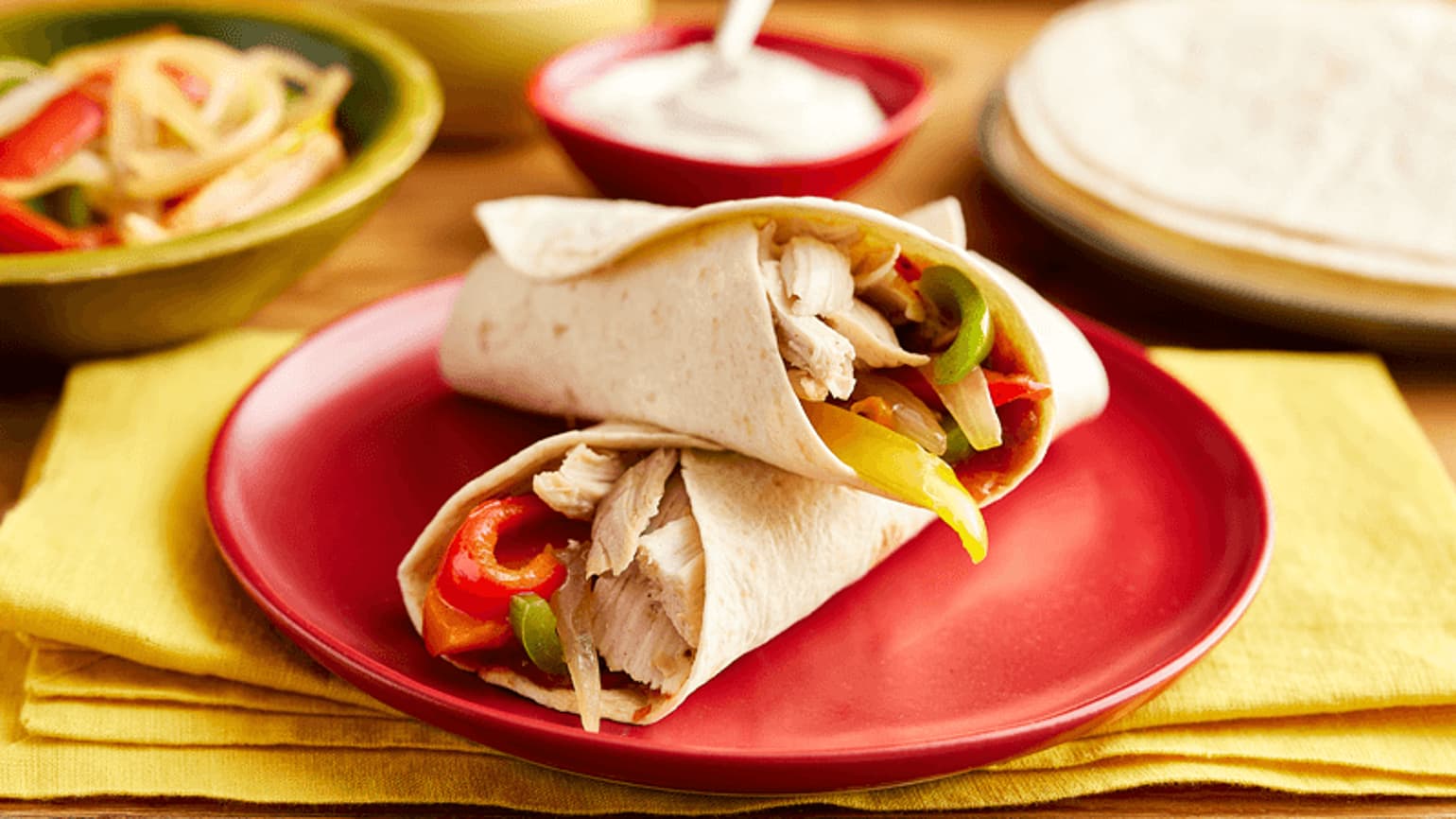 Slow Cooker Fajita Roast Chicken
With the help of a slow cooker you can get on with Christmas preparations or just enjoy festive family time while this dinner virtually cooks itself!
Total Time
4 Hours
30 Minutes
Ingredient List
1 onion, thinly sliced
1 red pepper, deseeded and thinly sliced
1 green pepper, deseeded and thinly sliced
1 yellow pepper, deseeded and thinly sliced
1 orange pepper, deseeded and thinly sliced
1 Old El Paso™ Smokey BBQ Fajita Kit
1 x 1.5kg free-range oven-ready chicken
To Serve
150g Old El Paso™ Soured Cream
Preparation
Mix the onion and peppers in the base of a slow cooker pot (see Tips).
Rub the seasoning mix from the kit all over the skin and inside the cavity of the chicken. Place the chicken on top of the onion and peppers.
Cover and cook on Low setting for 3 1/2-4 hours. (Don't lift the lid until after at least 3 hours of cooking) or until the chicken is cooked through (to check, pierce the thigh with a skewer – the juices should run clear and legs should move freely when wiggled. If the juices are still pink cook for a further 30 minutes then check again).
Transfer the chicken to a board, cover and leave to rest for 10 minutes. Carve and roughly shred all the chicken meat, discarding the carcass. Use a slotted spoon to transfer the onion and peppers to a dish.
Heat the tortillas from the kit to the pack instructions. Top each with some salsa from the kit then add the onion, peppers and shredded chicken. Fold and roll each tortilla and serve with soured cream.
Expert Tips
You will need a large slow cooker with a 6 litre capacity for this recipe. Cooking times may vary so check the appliance manual for guidance.
Keep the chicken and vegetable juices left in the slow cooker pot to use as a spicy stock for soups and stews. Cool completely and keep covered in the fridge for up to 2 days or freeze for up to 1 month.
You can also use an instant read thermometer to check for doneness of the chicken. Insert the thermometer into the thickest part of the inside thigh muscle, but not touching the bone. Temperature should read at least 74°C/165°F.