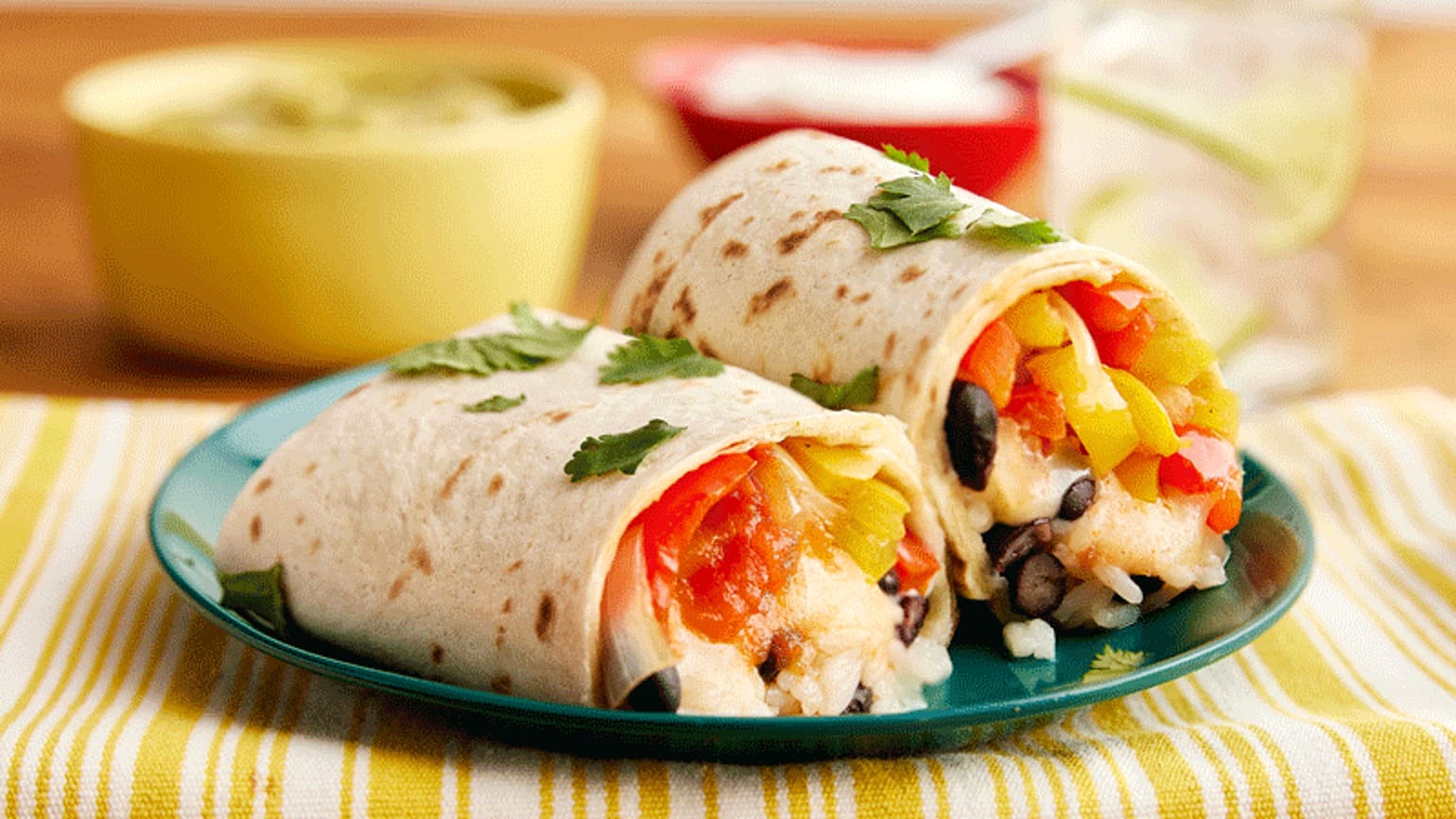 Vegetarian Fajita Burritos
These easy, cheesy veggie wraps are a little bit fajita, a little bit burrito and a whole lotta yummy!
Ingredient List
1 tablespoon vegetable oil
1 onion, thinly sliced
1 red pepper, deseeded and sliced
1 yellow pepper, deseeded and sliced
1 tablespoon Old El Paso™ Smoky Barbecue Fajita Seasoning Mix
2 tablespoons lime juice
6 Old El Paso™ Large Flour Tortillas
250g pouch microwave long grain white rice
120g rinsed and drained Old El Paso™ Black Beans (from 1 x 425g tin)
250g ready-grated mozzarella cheese
100g Old El Paso™ Thick 'N Chunky Salsa
2 tablespoons freshly chopped coriander
Preparation
Heat the oil in a large non-stick frying pan over a medium-high heat. Add the onion and peppers and cook for 4-5 minutes until beginning to soften. Stir in the seasoning mix and lime juice and cook for a further 1-2 minutes until liquid is absorbed.
Warm the tortillas to pack instructions. Place tortillas on chopping board. Heat the rice in the microwave to pack instructions.
Spread 1/6 each of the rice and beans in a line towards the bottom of each tortilla, leaving at least 2.5cm on all sides. Top each with 1/6 of the cheese. Divide the vegetables evenly among the tortillas and top each with about 1 tablespoon of salsa.
For each burrito, fold the sides in, overlapping to enclose the filling. Roll up from the bottom of the tortilla. Place seam-side down on a microwaveable plate and microwave on High (100%) for 50 seconds -1 minute, or until the burrito is steaming and cheese is melted. Serve sprinkled with coriander.
Expert Tips
Warming the tortillas makes them more pliable so they are easier to fold.
For extra Mexican flair, serve with Old El Paso™ Soured Cream and Old El Paso™ Chunky Guacamole.
Cooking Vegetarian? Always read labels to make sure each recipe ingredient is vegetarian. Products and ingredient sources can change.