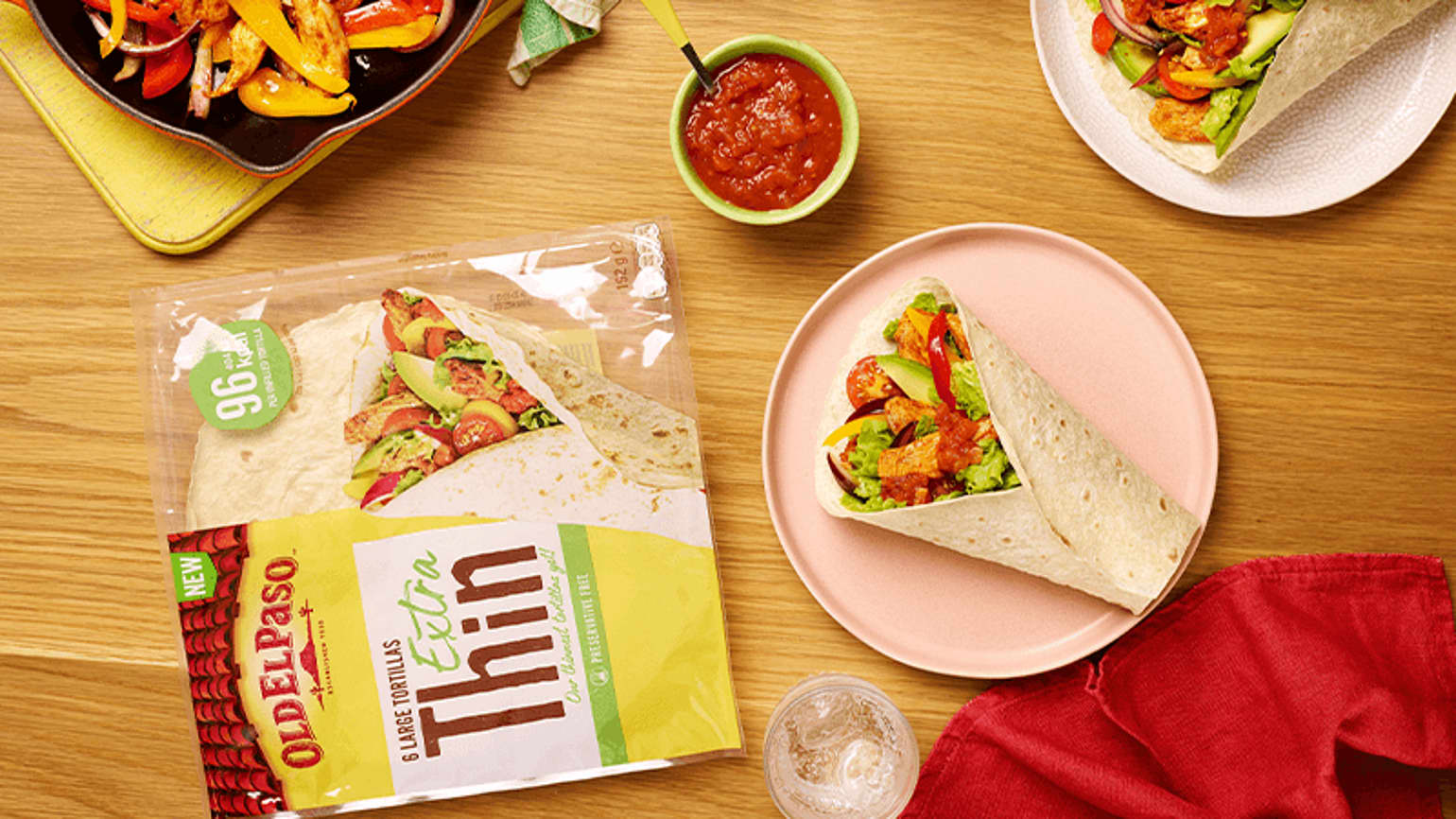 EXTRA THIN CHICKEN FAJITAS
Try these easy chicken fajitas with our Extra Thin Tortilla Wraps for a delicious meal. Pack full of peppers and salsa for the ultimate Mexican feast!
Ingredient List
500g Chicken
1 onion
1 Old El Paso™ Thick 'N Chunky Salsa
Yellow & red peppers
1 Old El Paso™ Seasoning mix for fajitas
1 Old El Paso™ 6 Large Extra Thin Tortillas
Preparation
Slice the chicken, peppers and onions into thin strips. Pan-fry the chicken in a little oil over medium-high heat until the chicken is thoroughly cooked. Throw in the onion, peppers and sprinkle over the Old El Paso™ seasoning mix for fajitas. Sizzle away, stirring or tossing until the chicken is golden, keeping the veg crunchy.
HEAT THE TORTILLAS:

- MICROWAVE: pierce the pack and place it in the microwave. Heat for 30-35 seconds on full power (800 watts). Open the pack and separate tortillas.

- OVEN: Pre-heat oven to 140C (120C fan-assisted ovens). Remove tortillas from packaging, separate them from each other and wrap in foil or greaseproof paper. Heat for 2-3 'minutes. Keep them covered and warm until ready to serve.
For an exciting Mexican experience serve sizzling hot from the pan for all to share. Grab a warm tortilla, spoon in the delicious filling and top with Old El Paso™ Thick 'N Chunky Salsa. Forget the knives and forks... Simply roll and enjoy!
Expert Tips
Add twist to your fajita by adding avocado, lettuce & cherry tomatoes.